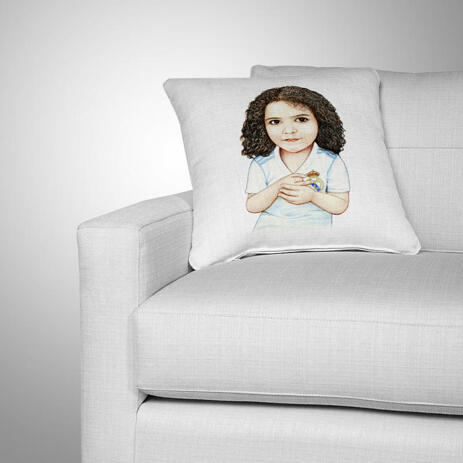 Kid Caricature Drawing Printed as Pillow
الحصول على صورة كاريكاتير مذهلة رسمها من الصور الخاصة بك من قبل الفنانين الكاريكاتير المهنية. ترتيب بسيط: تحميل العديد من الصور كما يحلو لك وإضافة أي وصف ذات الصلة - ونحن سوف رسم الكاريكاتير أنك، عائلتك وأصدقائك سوف نعتز به إلى الأبد! رسم الكاريكاتير هو خيار كبير ل هدية عيد، الذكرى هدية أو هدية الزفاف. يمكنك استخدامه على حد سواء للاستخدام الشخصي والتجاري.
مجموعة من العروض المماثلة
مراجعات العملاء

زائر
I love my drawing! The artist captured her face perfectly. Her right ear flapped over more and the artist captured that! Fortune cookie is no longer with me and I wanted a rainbow picture, and this one is perfect!!

زائر
This drawing captures the eyes and expression of Amos perfectly! I couldn't be happier, thank you.

زائر
Absolutely love it!! I Will definitely be a return customer. Thank you so much 😃😃😃

زائر
Picture is absolutely perfect. Customer service was amazing. They were willing to modify the picture to add my pups distinctive features without any hassle. Will be using them again!

زائر
I highly recommend!! I love it 🥰 and on top they were very patient with me and did everything I asked to tweak it to make it perfect for me!!! The original was stunning, but the adjustments made it perfect for me and they did them with no issue and I really appreciate the time and effort!!! Thank you.

زائر
Oh my gosh! Love it! This is a bday present for my daughter who just adores this little dog! She will adore it! Thank you so much. It looks just like him.

زائر
Oh my gosh, this is perfect! Thank you so much for capturing my sweet little furry faces do brilliantly!

زائر
We absolutely love our picture of our cat pickle. Thank you so much for actually listening to what I asked for with adding in her name tag and doing alot of bright colors that blend so well together. And the stars I freaking love them. Thank you we are thinking of getting another one done of the entire fam for Christmas cards

زائر
This is so perfect! I couldn't have dreamed of a better final product. Thank you so very much for such a beautiful piece of art. I will absolutely be shopping with you all again in the future :)

زائر
I am so impressed with this photo. You were able to capture my little guy while making it a masterpiece. For people who treat their pets like family members, it's a wonderful service. Thank you for doing what you do. Please let the artist know as well as all the others that provide such a great service.
عرض المزيد