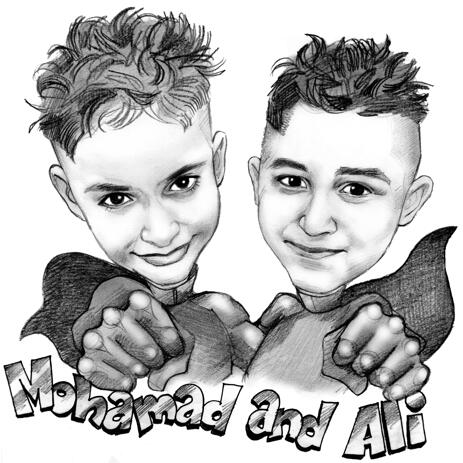 Dessin animé enfants dessin de photo avec des costumes de super-héros
Photolamus vous offre l'une des idées de cadeaux les plus amusantes pour les enfants qui sont passionnés par les personnages de bandes dessinées et de super héros. Obtenez un dessin de bande dessinée personnalisé de votre enfant, qui sera dessiné dans un costume aléatoire de super-héros. De telles caricatures sont bonnes pour de petites surprises pour vos enfants soit à l'anniversaire, Noël ou même n'importe quel autre jour sans occasion spéciale. Photolamus s'efforce de rendre chaque détail personnalisé pour vous, donc toutes les photos supplémentaires concernant le costume ou la pose contribueront positivement à notre processus de dessin. Dessin d'enfants dans le thème de super-héros et dans le style de dessin animé sera livré sous forme de fichier JPEG imprimable sur Email. Votre dessin animé prêt à l'emploi est disponible pour l'expédition dans d'autres options de livraison comme l'impression de toile, l'impression de photo, les tasses, les puzzles, les oreillers et tout autre. Tous les produits peuvent être expédiés dans le monde entier.
Obtenez un superbe portrait caricaturé dessiné de vos propres photos par des artistes caricaturistes professionnels. La commande est simple: téléchargez autant de photos que vous le désirez et ajoutez toute les descriptions pertinentes - nous allons dessiner une caricature que vous, votre famille et vos amis chérissent pour toujours!Le dessin de caricature est une option super pour les Cadeaux d'Anniversaire ou les Cadeaux de Mariage. Vous pouvez l'utiliser à la fois pour un usage personnel et commercial.
Collection d'Offres Similiares
Avis clients

Jill Barth
More than we could have hoped for. the artists at Photolamus are so incredibly talented; they always blow us away! thank you so much!!

Client
Absolutely adore this! Whomever the artist is does a great job! I love that they will focus on the important stuff to the individual requesting! Thank you so much! I cannot wait to reach out to you all again!

Client
This company went above and beyond for me. I made the request of asking for a drawing for many of my friends and they followed every detail I gave. Not only that, but when I requested a few modifications on the drawings, they had no problem in making the changes and in an extremely timely manner. I could not recommend a company more if you're looking to give your grooms or bridesmaids an unforgettable gift

Client
The service was fast; I got my drawing sooner than I expected and it turned out great! The artist did a fabulous job of capturing my dogs and everyone I have shown the picture loves it. I look forward to having more done in the future.

Client
Thank you for so quickly fixing the background issue. I greatly appreciate it and you've made the timeline I needed to give it to my new husband as part of my wedding gift. Thank you!

Client
I love my drawing! The artist captured her face perfectly. Her right ear flapped over more and the artist captured that! Fortune cookie is no longer with me and I wanted a rainbow picture, and this one is perfect!!

Client
This drawing captures the eyes and expression of Amos perfectly! I couldn't be happier, thank you.

Client
Absolutely love it!! I Will definitely be a return customer. Thank you so much 😃😃😃

Client
Picture is absolutely perfect. Customer service was amazing. They were willing to modify the picture to add my pups distinctive features without any hassle. Will be using them again!

Client
I highly recommend!! I love it 🥰 and on top they were very patient with me and did everything I asked to tweak it to make it perfect for me!!! The original was stunning, but the adjustments made it perfect for me and they did them with no issue and I really appreciate the time and effort!!! Thank you.
Afficher plus