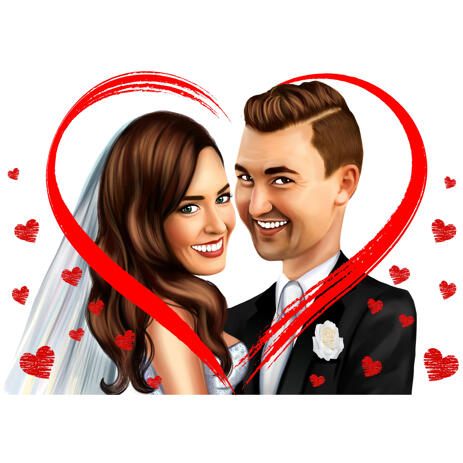 Hochzeitskarikatur im bunt digital Stil
Bestellen Sie Ihre Hochzeit Karikatur Zeichnung von Brautpaar mit leicht lustiger Übertreibung, abhängig von Fotos, die Sie liefern werden. Unser Künstler zeichnet farbige Karikaturen im digitalen Stil, basierend auf Ihnen beschriebenen Spezifikationen und Details im Anforderungsfeld. Ihre hochgeladenen Fotos in hoher Qualität, helfen unserem Künstler, eine erstaunliche Hochzeitszeichnung zu erstellen, die jeden überraschen wird, den Sie wünschen. Ihre digitalisierte Zeichnung wird standardmäßig als druckfertige JPG-Datei mit einer Auflösung von 4000 dpi bei 300 dpi an Ihre E-Mail-Adresse gesendet. So kann Ihre Hochzeit Zeichnung auf allen Oberflächen gedruckt werden: Papier, Stoff, Kunststoff, Keramik. Wir bieten Lieferoptionen für unsere Kunden gegen Aufpreis: Digitale Zeichnung gedruckt auf Leinwand; Zeichnung auf Fotopapier gedruckt. Weltweiter Versand ist verfügbar. Kurze Umschlagszeit.
Erhalten Sie erstaunliche Karikaturen, Porträten von Ihren Fotos. Das Bestellen ist einfach: Laden Sie so viel Fotos wie Sie wollen und die Beschreibung – wir werden Ihnen eine Karikatur zeichnen, die Sie, Ihre Familie unde Freunde für immer schätzen werden. Eine Karikatur ist die beste Option für ein Geburtstaggeschenk, Jubiläumsgeschenk oder Hochzeitgeschenk. Sie können sie für Personliches Leben und Geschäft nutzen.
Kunden Bewertungen

Gast
Absolutely adore this! Whomever the artist is does a great job! I love that they will focus on the important stuff to the individual requesting! Thank you so much! I cannot wait to reach out to you all again!

Gast
This company went above and beyond for me. I made the request of asking for a drawing for many of my friends and they followed every detail I gave. Not only that, but when I requested a few modifications on the drawings, they had no problem in making the changes and in an extremely timely manner. I could not recommend a company more if you're looking to give your grooms or bridesmaids an unforgettable gift

Gast
The service was fast; I got my drawing sooner than I expected and it turned out great! The artist did a fabulous job of capturing my dogs and everyone I have shown the picture loves it. I look forward to having more done in the future.

Gast
Thank you for so quickly fixing the background issue. I greatly appreciate it and you've made the timeline I needed to give it to my new husband as part of my wedding gift. Thank you!

Gast
I love my drawing! The artist captured her face perfectly. Her right ear flapped over more and the artist captured that! Fortune cookie is no longer with me and I wanted a rainbow picture, and this one is perfect!!

Gast
This drawing captures the eyes and expression of Amos perfectly! I couldn't be happier, thank you.

Gast
Absolutely love it!! I Will definitely be a return customer. Thank you so much 😃😃😃

Gast
Picture is absolutely perfect. Customer service was amazing. They were willing to modify the picture to add my pups distinctive features without any hassle. Will be using them again!

Gast
I highly recommend!! I love it 🥰 and on top they were very patient with me and did everything I asked to tweak it to make it perfect for me!!! The original was stunning, but the adjustments made it perfect for me and they did them with no issue and I really appreciate the time and effort!!! Thank you.

Gast
Oh my gosh! Love it! This is a bday present for my daughter who just adores this little dog! She will adore it! Thank you so much. It looks just like him.
Mehr sehen