TOP-20 Сhristmas Gifts For A Husband That Any Man Would Like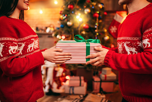 Are you wondering what to get your husband for Christmas? It's that time of the year again when the holiday spirit fills the air, and finding the perfect gift for your beloved husband becomes a delightful challenge. Whether he's a tech enthusiast, an adventurous soul, or a connoisseur of refined tastes, we've got you covered with a fantastic array of Christmas gift ideas for your other half. From thoughtful and sentimental presents to exciting and practical gadgets, our carefully curated list of the TOP-20 Christmas Gifts for a Husband is bound to make this holiday unforgettable.
1. Christmas Caricature
A caricature would undoubtedly be the perfect gift for any husband, guaranteed to evoke a reaction of sheer delight comparable to a child receiving their most cherished toy. When a man looks at his personalized caricature, a million-watt smile is bound to spread from ear to ear, radiating pure happiness and joy. This thoughtful and unique present captures his essence in a fun and artistic manner, making it a treasure he'll proudly display and cherish for years.
2. Christmas Couple Caricature
A Christmas couple caricature would be a perfect gift for your husband, guaranteed to bring immense joy to both of you. As you unwrap this delightful artwork, a sense of shared happiness and laughter will fill the room, creating a lasting memory of your love and togetherness during the holiday season. It's a gift that symbolizes your bond and will undoubtedly be cherished and proudly displayed as a constant reminder of the happiness you bring to each other's lives.
3. Christmas Family Portrait
Giving this beautiful portrait to your husband symbolizes the importance of family bonds and the joyous moments shared during the festive season. In the years to come, this family portrait will serve as a sincere reminder of the love, laughter, and special memories you've created during Christmas.
4. Neck, Shoulder, And Back Massager With Heat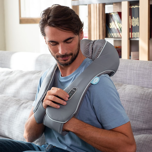 Imagine the joy on his face as he unwraps this gift, realizing he has an oasis of relaxation at his fingertips. Whether dealing with the strains of a long day at work, the fatigue from strenuous activities, or just seeking a moment of tranquility, this massager will be his go-to companion. We all know how essential it is for him to unwind and find moments of relaxation amidst the daily hustle and bustle.
5. Timberland Men's 35mm Classic Jean Belt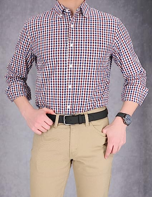 Timberland Men's 35mm Classic Jean Belt is ideal for any husband, appealing to all men due to Timberland's long-standing reputation for crafting enduring and well-structured fashion items. Like their other products, this belt boasts lifetime durability, making it a timeless and reliable accessory he'll cherish for years.
6. A Valet Box for His Accessories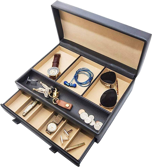 Men have a natural inclination for organization, and you've probably noticed how your husband has a designated spot for everything, from his tools and games to books and more. However, when it comes to his fantastic accessories like watches, cufflinks, and rings, he may need a dedicated place to keep them organized. With such a helpful item, he will no longer have to search for matching cufflinks or his favorite watch, as everything will be easily accessible and ready to complement his outfits.
7. A Drone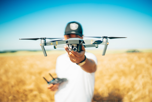 A drone would be the greatest gift for any husband, appealing to men of all interests. Its versatility offers endless possibilities, making it a perfect Christmas present for a husband who seemingly has everything. With its high-tech features and built-in camera, he can capture stunning videos and photos wherever he travels. Additionally, it opens up a new and exciting hobby of drone flying, providing endless hours of enjoyment. This thoughtful gift will undoubtedly bring joy and excitement to his life, making it a gift he'll cherish forever.
8. A Yeti Rambler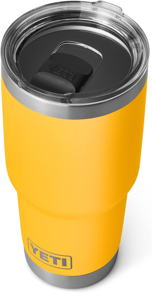 When it comes to the perfect gift for a husband, the YETI Rambler is a top contender that any man would appreciate. Say goodbye to single-use cups because this reusable Rambler keeps his drinks perfectly insulated, surpassing his sipping requirements. YETI recently introduced a new tumbler variant with a straw lid, adding even more versatility to their impressive lineup.
9. Apple AirPods Pro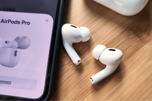 Consider the Apple AirPods Pro a top-notch gift that any man would genuinely value. These cutting-edge earbuds boast noise-canceling technology and a transparency mode, providing seamless interaction with the surroundings. Additionally, they are designed to be water and sweat-resistant, and with three sizes of silicone earbud tips, they offer a comfortable and personalized fit.
10. A Candle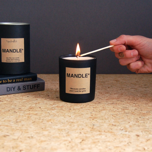 Candles have a universal appeal beyond gender stereotypes, proving they are not exclusive to women. With a captivating cologne fragrance infused into them at a potent concentration, these candles exude a delightful aroma when ignited. The enchanting scent fills the air, creating a warm and inviting ambiance for anyone in the room to savor and enjoy. When contemplating the best gift for your husband for Christmas or what is a good Christmas gift for your husband, this scented candle becomes an excellent choice that not only delights the senses but also sets the perfect mood for cozy and memorable moments.
11. Ray-Ban Clubmaster Classic Sunglasses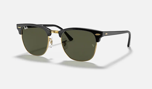 Transport your husband back to the captivating era of the 1950s with these retro-inspired sunglasses. These shades effortlessly blend the nostalgia of the past with the fashion-forward sensibilities of today, embodying the essence of timeless allure and glamour. When he puts them on, he'll exude an air of confidence and style that will mesmerize everyone around him.
12. Apple iPad Mini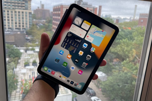 Opt for the perfect gift for your husband by selecting an Apple iPad Mini, a versatile device that any man would undoubtedly appreciate. With its user-friendly interface and remarkable capabilities, this iPad Mini will empower your husband to manage his work tasks effortlessly, indulge in gaming adventures, enjoy his favorite movies, and explore creative pursuits in one compact package. Furthermore, you can personalize the gift by choosing between the sleek space grey or elegant silver finish, ensuring it perfectly complements his unique style and preferences. So, when you're wondering what to gift your husband for Christmas or what would be a good Christmas gift for your husband, this thoughtful customization adds a special touch that will make the present even more meaningful and cherished.
13. A Wallet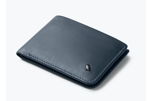 Gift him the ultimate Christmas present with the Bellroy wallet, destined to be his most invaluable accessory. This wallet offers quick card access, ensuring effortless retrieval. It also includes a dedicated protection section for his specialty cards, a hidden coin pouch for added convenience, and a flat-bills section for easy organization.
14. Wood Digital Alarm Clock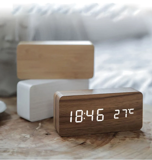 Such a LED digital alarm clock assists him in punctuality during his morning commute. Its innovative design makes it a perfect addition to stylish room decor and ensures a clear display of time and temperature. No more scrambling to check the morning time or weather – this LED digital alarm clock covers everything! It's the perfect gift to consider when your husband doesn't get you a Christmas present, as it brings practicality and convenience to both of you and his daily routine and serves as a thoughtful gesture to show your love and appreciation. So, when you're wondering what to gift your husband for Christmas, this alarm clock becomes reliable, ensuring he starts each day on time and well-informed.
15. Carhartt Men's Knit Cuffed Beanie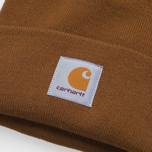 With a variety of colors to choose from, this beanie is not only a foolproof option that guarantees warmth and effortlessly hides unruly hair but also ranks among the best Christmas present ideas for a husband who has everything. This versatile and stylish gift keeps him cozy and looking great throughout the holiday season. Plus, it's a one-size-fits-all solution to forget any fitting concerns!
16. Metro Street Backpack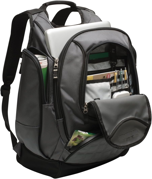 Renowned for their meticulous design, OGIO backpacks offer comprehensive storage solutions to meet all your requirements. This model features a dedicated laptop sleeve, a spacious central storage area, pockets thoughtfully crafted for power cords and computer mice, and an internal file sleeve. Whether heading to work, traveling, or needing a reliable companion for your daily activities, this OGIO backpack delivers unparalleled convenience and organization.
17. A Game of Thrones Board Game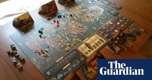 The ultimate Christmas gift for your husband, bound to please any man, is the "A Game of Thrones Board Game." If he's been engrossed in "House of Dragon," this board game will effortlessly draw everyone into a thrilling tournament. With the capacity to accommodate three to six players, they can engage in an epic battle for dominance over the Great Houses. It's an ideal present and the best Christmas gift for a husband who has everything, as it masterfully combines his love for the series with an interactive and exciting gaming experience, ensuring this holiday season will be one to remember.
18. Portable Espresso Machine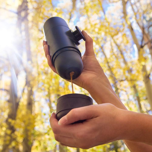 Whether embarking on a hike, heading to the gym, or off to the office, he can now enjoy a customized cup of espresso or coffee wherever he goes. All he needs to do is prepare the machine beforehand by adding water and coffee grounds. When the moment arrives to savor his brew, a simple button press is all it takes. No matter the destination, he can always relish his preferred beverage, conveniently prepared to perfection. With these thoughtful Christmas gift ideas for a husband who has everything, the joy of enjoying his favorite cup of espresso or coffee will be a delightful part of his everyday adventures.
19. Compression Packing Cubes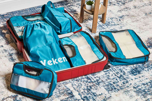 With these practical packing cubes, he can streamline his travel experience and easily stay on the move, even if he's a husband who doesn't want anything for Christmas. These cubes make for an excellent and thoughtful present, ensuring he organizes his belongings efficiently and avoids unnecessary expenses and delays during his journeys. When pondering the perfect gift for your husband on Christmas, these fantastic items become an innovative and valuable choice that will undoubtedly come in handy on all his future adventures.
20. Bamboo Tea Box Storage Organizer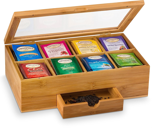 A Bamboo Tea Box Storage Organizer is ideal for the man who adores sipping a warm cup of green tea on a cozy weekend morning. It is a beautifully crafted tea box to store green, black, and chamomile tea pouches. With this exquisite tea box, he can keep his favorite varieties neatly organized and readily available, ensuring every cuppa is a delightful and soothing experience.
Instead of stressing over "What is a good gift for my husband for Christmas," let our suggestions inspire you to choose something unique and meaningful that reflects his personality and the bond you share. Whether a heartfelt personalized item or an adventure-packed experience, your thoughtful gesture will undoubtedly make this Christmas one to remember.