Top 10 Fun Wedding Gifts for Gay Couple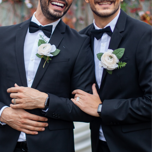 Love knows no boundaries, and when celebrating the union of two people in love, there's no one-size-fits-all approach. If you've been invited to celebrate the wedding of a gay couple, you might be wondering what kind of gift would best express your happiness for them. The answer? Something as unique and wonderful as their love story! In this blog post, we've compiled a list of the top 10 fun wedding gifts for gay couples that go beyond the traditional registry items. These thoughtful gifts reflect the couple's shared sense of humor, individuality, and journey to this beautiful moment. So, whether you're a close friend, a family member, or someone looking to spread love and laughter, these gift ideas will surely make the newlyweds smile.
1. Personalized Caricature
It's no secret that a caricature has impressive powers to cause amusement, good mood, and smiles. Weddings are about joy and celebration; a caricature perfectly encapsulates that spirit. It adds a touch of humor and lightheartedness to the occasion, breaking the ice and easing any tension. In the case of a gay couple, it sends a strong message of acceptance and support, creating an inclusive and warm atmosphere for everyone.
2. A Personalized Mug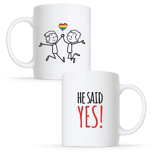 Your LGBT married friends will surely cherish these innovative LGBT Mugs, a genuinely imaginative gift choice! The mugs feature a simple yet elegant design, with the focal point being a heartfelt message or image at the center. Adding a personal touch with the recipient's name and title will delight them, making this gift even more special. The newlyweds will undoubtedly appreciate this thoughtful gesture.
3. A Doormat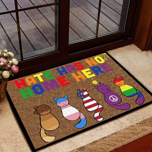 A Personalized Doormat is a functional and heartfelt home accessory. This doormat isn't just a decorative piece; it's a warm welcome infused with love. Its vibrant colors and striking message instantly catch the eye, making it a unique addition to any home. Available in two generous sizes - 18 x 28 inches or 24 x 35 inches- it offers ample space to greet guests and proudly displays your support for LGBT+ couples.
4. Couple Pillow Cases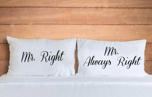 Whether you're looking for the ideal wedding gift for your beloved or a fantastic present for any couple, this selection hits all the right notes. It will grace every bedroom, turning them into charming sanctuaries that exude warmth, romance, and joy! It is among the top choices for same-sex couples celebrating anniversaries, engagements, or weddings. Rest assured, these pillowcases are bound to bring a radiant smile to the faces of your beloved Mr. and Mr. as soon as they are unwrapped.
5. A Sky Star Map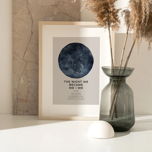 Surprise your beloved LGBTQ+ couples with an extraordinary and sentimental star map that will forever commemorate the moment they first crossed paths. This extraordinary star map makes for an unforgettable wedding gift that will hold a special place in their hearts for a lifetime. Add a personal touch by customizing it with their unique details, and present it with love.
6. Custom Name Robe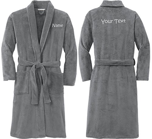 Robes play an integral role in our daily routine. Extend a thoughtful gesture to your best men by presenting them with these luxurious and exquisitely soft robes for their special wedding day. These robes are some of the finest gifts designed for the groom and groom, making them a cherished addition to their wedding experience.
7. Wooden Pride Sign Art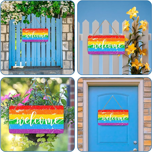 This wooden sign is a delightful addition that their home will warmly embrace. It offers diverse styles and features various Pride flag designs, making it a versatile piece that can be displayed indoors or outdoors.
8. Pride Yankee Candle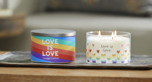 Are you looking for an excellent budget-friendly wedding gift for a same-sex couple or a delightful addition to a wedding day gift basket? Pride candles are a fantastic choice! These candles are available in a wide range of your favorite brands, but Yankee candles, in particular, are sure to impress and are a popular choice among many.
9. Song Lyrics Canvas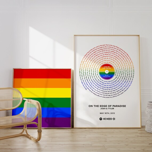 This customized canvas, featuring lyrics from a particular song, allows a gay couple to share their affectionate bond with friends and family. When presented as a wedding gift to a gay male couple, it symbolizes the wish for their enduring love. Personalize it with their names, a cherished wedding photo, and the date of their union. This heartfelt ornament can enhance any room in their home, whether the bedroom, living room, or kitchen. It is a constant reminder of the warm nostalgia associated with the times they enjoyed music together, weaving their love story into the fabric of their living space.
10. LGBTQ+ Love Shirts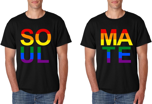 These creative shirts make perfect congratulatory gifts for a gay wedding. The design elegantly showcases the word "Soulmate" in subtle, faded rainbow colors, allowing the wearer to express their support for the LGBT community proudly. Whether the newlyweds are embarking on a honeymoon adventure or want to celebrate their newfound marital status in style, these shirts are a fantastic choice.
When choosing the perfect wedding gift for a gay couple, it's essential to celebrate the uniqueness of each partner's hobbies and personality. The top 10 fun wedding gifts explored in this blog offer various possibilities to suit different tastes and interests. Whether it's a personalized item that reflects their virtual shared journey, a thoughtful token that acknowledges their passions, or a gift that brings joy and laughter to their special day, remember that the best gifts come from the heart. So, as you embark on the journey of finding the ideal gift for the happy couple, keep their individuality in mind, and you're sure to make their wedding day even more memorable.