10 Fun Housewarming Gift for Gay Couples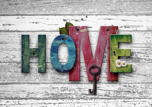 When one of your pals—yes, that wonderful gay couple—successfully purchases their dream house, it calls for an extraordinary celebration! But what's the best gift for them? Something unique and loved by the happy couple. Don't worry, we've got ideas! In this article, we've picked out cool and meaningful gifts designed for couples like your friends, starting this exciting part of their lives. We want to give you unique choices, ensuring your gift is remembered and treasured, not passed on to someone else. Explore these excellent housewarming gift ideas that honor love and new beginnings.
1. A Personalized Caricature
Celebrate your LGBTQ+ friends' joyous milestone of home ownership with a personalized caricature! It's more than just a drawing; it's a unique piece of art that encapsulates their vibrant personalities and the bliss of their new abode. This gift is perfect for adorning their wall, providing years of ongoing enjoyment, and serving as a timeless keepsake. Moreover, selecting a personalized gift is a consistently inspired decision, often holding a prime position at the pinnacle of thoughtful and cherished choices.
2. Wine Rack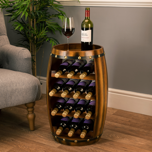 If your beloved gay couple enjoys hosting gatherings, a wine rack is a must-have! Consider the Christow wine rack, featuring a flat surface ideal for showcasing a selected bottle and offering their guests delightful accompaniments like cheese, chocolates, and olives. The surface boasts an eye-catching burnt wood finish, adorned with the charming 'Kings' Old Wineries' text. This piece organizes their wine and adds a touch of elegance to their entertaining space, making it an excellent addition to their party setup.
3. Two Groom Song Lyrics Canvas Wall Art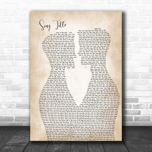 Every couple holds a beloved song close to their hearts. If you have a same-sex couple dear to you and resonate deeply with particular lyrics or a tune, why not incorporate this sentiment into your housewarming gift for a gay male couple? A custom canvas print featuring their beloved song's lyrics adds a touch of personalization that goes straight to the soul. Not only is it a beautiful piece of art, but it also becomes a stunning decoration adorning the shared home of the joyous couple, a constant reminder of their love and musical connection.
4. Silver Forks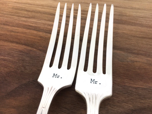 A set of silver forks is a delightful housewarming gift for gay couples, embodying tradition with a contemporary twist. While a complete silverware collection is a timeless choice, a stunning set of silver forks offers an affordable yet stylish alternative. This gift marries utility and aesthetics, elevating their new home's dining experience. Customize the forks with their wedding date or names, infusing sentimental charm into this thoughtful gesture.
5. An Elegant Flower Vase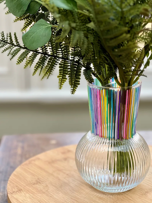 A stylish flower vase is a beautiful housewarming gift for gay couples. Often, people overlook the need for a vase until they receive flowers. Spare your gay friends from using awkward substitutes like tall glasses or oversized jars. Gift them a stylish minimalist vase, ensuring they can proudly display any floral arrangements they receive from guests on the same day, adding an elegant touch to their new home.
6. A Cocktail Kit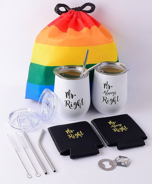 In today's world, it's completely understandable if people choose to kickstart their days with a delightful cocktail, given the challenging times. With a professional cocktail kit, you can elevate your favorite couple's cocktails by at least 50% and infuse 100% more fabulousness. Shakers, strainers, and crushers bring an abundance of flair to every drink, not an essential, but undeniably essential. If you're aiming for an extravagant gift, curate a complete bar experience for your gay friends, complete with a stylish drink cart, top-notch cocktail kits, personalized glasses, and elegant decanters. Shopping for gay couples might pose a challenge, but these housewarming gifts tailored to the LGBTQ+ community are versatile and ideal for any new home.
7. Robot Vacuum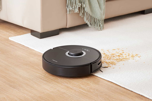 Most couples prefer to avoid cleaning the house during their free time. Give your favorite couple a break from chores with a helpful robot vacuum cleaner. While they take their dog for a walk or enjoy a relaxing brunch, the robot cleaner will do all the tedious work of sweeping and mopping the house. Plus, it'll blend in nicely with their home aesthetic.
8. Personalized Compact Swivel Cheese Board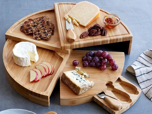 For older gay couples who have recently moved into a new home, a lovely cheese board makes a fantastic wedding gift. This swivel cheese board holds plenty of snacks and can be conveniently stored. Its customized design adds an extra special touch to the item.
9. Mr. and Mr. Photo Frame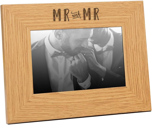 A Mr. and Mr. Photo Frame is an ideal housewarming gift for gay couples! It celebrates their love with two grooms and shows you value their relationship. Choosing this personalized frame reflects your thoughtfulness and consideration, making the newlyweds feel special and appreciated. It's a heartwarming reminder of their love and a great addition to their new home.
10. Personalized Couple Name Pillow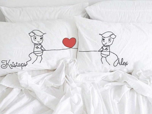 Even the tiniest personalized gifts for gay couples can mean a lot. Take a custom name cushion, for example. It's a simple household item made unique by personalization. Giving a cushion with the couple's names is a fantastic idea for a personalized wedding gift. Moreover, it doubles as a delightful housewarming present if the couple begins their life together in a new home after the wedding.
In wrapping up our quest for housewarming gift ideas for gay couples, we've seen how a thoughtful housewarming gift can genuinely enhance the joy of setting up a new home together. As a couple's friend, showing your support through a thoughtful and fitting housewarming gift is essential. Thankfully, there are plenty of budget-friendly yet meaningful options to pick from in this curated list. Remember, the key is to find something that's both practical and heartfelt. We trust you now have various gifting ideas to make their housewarming celebration extra special. Cheers to making wonderful, fresh memories in their newly shared home!