Top 5 Graduation Gifts for Dentists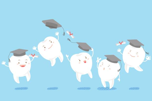 Welcome to our blog on the top 5 graduation gifts for dentists! Graduation is a momentous occasion that marks the culmination of years of hard work and dedication to becoming a professional dentist. It's a time to celebrate the achievements and honor the commitment of those who have chosen to care for our oral health. Showcasing your appreciation through meaningful gifts is a beautiful way to acknowledge their efforts. Whether they specialize in oral surgery, orthodontics, pediatric dentistry, or general dentistry, we have curated a list of gifts that will resonate with their journey. Among these gifts is a framed prayer designed to provide daily encouragement and constantly remind them of their impact on their patients' lives. Join us as we explore the top 5 graduation gifts for dentists tailored to express your gratitude and admiration for their remarkable accomplishments.
1. Personalized Caricature
When choosing the perfect gift for a graduating dentist, nothing captures the essence of their achievement like a meticulously crafted caricature elegantly showcased in a premium frame. This thoughtful gesture is akin to presenting them with a trophy—an invaluable treasure that will serve as a timeless reminder of their remarkable accomplishments. A gift that combines artistry and recognition, it stands as a precious jewel, honoring their journey and inspiring them to reach even greater heights in the coming years. For more graduation gift ideas for dentists, check out our comprehensive guide to ensure your chosen gift reflects their accomplishments and celebrates this milestone in their professional life.
2. Dentist Desk Name Sign with Cartoon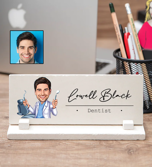 For several compelling reasons, a Dentist Desk Name Sign with Cartoon is the ideal graduation gift for new dentists. Firstly, it adds a personalized touch to their future workspace, showcasing their professional identity. It symbolizes their hard-earned achievement, culminating years of education and dedication, and serves as a conversation starter with patients, fostering a warm and friendly atmosphere.
3. Custom Dental Keychains with Tooth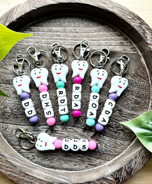 A Custom Dental Keychain with Tooth is an excellent graduation gift for dentists due to its significance and usefulness. The keychain's customization allows for a personal touch, such as engraving their name or graduation date, making it a cherished memento. Practicality-wise, a keychain is a helpful accessory for organizing keys, ensuring they are always readily accessible.
4. Graduation Card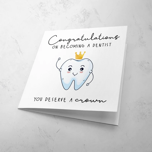 The beauty of a card lies in its ability to be personalized with a heartfelt message, applauding the recipient's achievements and acknowledging the challenges they have overcome. Dentists can reread the card to remember their experience and support. Its simplicity and adaptability make it a good graduation gift for any dentist, regardless of style.
5. Dentist Cake Topper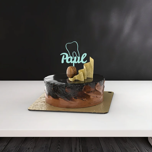 There are many beautiful reasons why a Doctor of Dental Surgery Cake Topper is the ideal dentist graduation gift. First, it makes the momentous day of their achievements more joyous and celebratory. When perched atop a cake, it becomes the focal point and a sign of their victory in dentistry school. In other words, it combines a celebration, personal touch, and lovely sweetness.
Although concise, this list will be a source of inspiration for you. Finding the perfect graduation gift for dentists can be both rewarding and challenging. The immense effort and commitment invested in becoming a dentist make it crucial to select a gift that truly captures their achievements and conveys a deep appreciation for their transformative journey. While the task might appear daunting, remember that the true significance of the gift lies in the thoughtfulness and care invested in its selection. With each carefully chosen item, you can honor their dedication and commemorate their remarkable milestone.