Cartoon Logo Ideas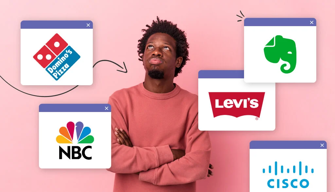 In the ever-evolving realm of branding and design, a logo is the bedrock of a company's identity, embodying its core values and aspirations. Beyond mere aesthetics, a company's logo is a visual conduit to convey its essence, beliefs, and mission. It materializes as a graphical hallmark, an emblem, or a symbol that offers a swift and memorable means for customers, partners, and the general populace to connect with and acknowledge the enterprise. A thoughtfully crafted logo distills the very spirit of the brand, forming a steadfast visual affiliation capable of arousing sentiments, imparting messages, and nurturing confidence. Amidst the intricate variety of logo styles, cartoon logos are entrancing, dynamic, and incredibly flexible creations. These imaginative designs hold an extraordinary capacity to inject brands with an essence of approachable allure and vibrant energy, a quality that frequently outshines other forms of logos. Whether you're a business owner seeking inspiration, a designer honing your craft, or simply an admirer of creativity, join us as we dissect the elements that make cartoon logos a timeless and engaging choice. From iconic characters that have become cultural symbols to the psychology behind their appeal, we invite you to explore the captivating world of cartoon logos with us.
1. A Logo with Products in Hands
One of the most brilliant concepts for a logo involves depicting the company's products in the hands of its creators. This approach serves a dual purpose: firstly, the logo cleverly communicates vital company information through imagery and beautifully showcases the dedicated individuals behind the products. Picture this - the logo speaks volumes about the brand and introduces you to the people who pour their heart and soul into crafting the items they proudly hold. Isn't that sheer brilliance in design?
2. Custom Person Cartoon Caricature Holding Sign Hand-Drawn in Colored Style
The 'Custom Person Cartoon Caricature Holding Sign Hand-Drawn in Colored Style' is an exceptional logo idea. A smile in a logo holds immense significance—it's the gateway to forging emotional connections. Imagine a company representative, whether the owner or a staff member, grinning while holding a meticulously hand-drawn sign. Such a logo concept isn't just an image; it's a welcoming face that leaves an everlasting mark in customers' hearts.
3. Pin Up Avatar Logo Drawing
Engage your audience with a logo that's more than just a visual; it's an experience. People remember experiences, and our Pin Up Avatar Logo Drawing guarantees precisely that. Our Pin-Up Avatar Logo Drawing is the perfect fusion of classic charm and modern flair, designed to set your brand apart from the crowd. Your brand deserves an identity that's as unique as you are. This creative concept is tailored to reflect your personality, values, and style, ensuring your logo stands out in generic designs.
4. Corporate Caricature with Company Logo
Showcase the human side of your business. People remember what's unique and memorable. Our Corporate Caricature with Company Logo leaves a lasting impression, creating conversations and connections that count. Your caricature reflects your commitment to personalized service, fostering trust and long-term partnerships.
5. Full Body Avatar Drawing with Logo
Capture the essence of your brand with a full-body representation. People connect with people. Incorporating a whole-body avatar builds a genuine rapport with your audience, enhancing trust and loyalty. This avatar-logo fusion impacts all digital and print platforms, from social media profiles to business websites. It adds a touch of professionalism while still conveying approachability.
6. Logo Drawing in Circle
Shape your brand's identity with a unique twist through our Circular Logo Drawing. The circular design offers a pleasing and balanced aesthetic, instantly drawing attention, leaving a harmonious impression, and naturally directing focus to the center, where your logo's core message or imagery is beautifully showcased. Whether on your website, social media profiles, business cards, or merchandise, such a Logo concept looks impeccable across all mediums, ensuring consistent and impactful branding.
7. Pop Art Style Logo
Want your brand to pop and stand out from the crowd? Our Pop Art Style Logo is the perfect fusion of bold colors, dynamic design, and artistic expression; its boldness ensures that your brand remains in the minds of your audience long after they've seen it. It conveys energy, creativity, and a sense of fun that resonates with modern audiences.
8. Workman Caricature
Suppose your brand is all about hard work, dedication, and craftsmanship. In that case, our Workman Logo Concept is the perfect choice as it embodies these values, capturing the essence of your business in a visually compelling way. The imagery of a workman evokes a sense of action and progress. It's a logo that doesn't just sit there; it conveys movement and accomplishment, leaving a memorable impact.
9. Vector Avatar Drawing
$35.99
Capture the uniqueness of your brand with an avatar that reflects your individuality - a Vector Avatar Drawing. Its clean lines and sharp edges make for a visually striking logo. Every line and curve is perfectly captured in a crisp, professional vector format. Whether it's a stylized representation of you, your team, or your audience, it's an emblem that tells your story.
10. Custom Headshot Avatar Drawing
In the digital age, a striking avatar is crucial for online recognition. Our custom drawing ensures you stand out and are easily recognizable across platforms. People connect with faces. Your custom headshot avatar bridges the gap between you and your audience, fostering a sense of connection and authenticity.
From playful caricatures to sophisticated illustrations, Photolamus transforms ideas into captivating visuals, ensuring your logo is not just an image but a storytelling tool. Regarding Cartoon Logo Ideas, our creative caricature platform is the undeniable choice for those seeking authenticity, innovation, and an emblem that genuinely stands out in a competitive market. Elevate your brand, tell your story, and make a memorable impression with a Cartoon Logo from Photolamus. Your logo is the face of your brand—make it unforgettable.