Custom Birthday Invitation for Child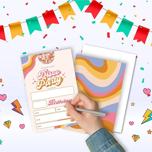 We all like colors, don't we? There's something undeniably captivating about vibrant, dynamic, and playful invitations. Whether you're a parent planning a birthday celebration for your child or someone who treasures beautiful memories carefully tucked away in a magical box, custom birthday invitations hold a unique charm. They possess the extraordinary power to transform a simple gathering into an unforgettable party. You've probably experienced that delightful moment when you receive an invitation that excites you even more than the event it announces. It's all about that sprinkle of enchantment that turns ordinary things into something genuinely magical right from the beginning. In this blog, we'll explore the world of custom birthday invitations for children, where creativity, imagination, and the joy of celebrating come together to craft unforgettable moments. Join us in this beautiful journey of enchanting every child's special day with these personalized invitations.
1. Paw Patrol Birthday Invitations
Are your little ones big fans of Paw Patrol? Imagine the excitement on their faces when they see themselves transformed into their favorite Paw Patrol characters! Our Kids Caricature from Photos service is here to make their dreams come true. Whether planning a birthday party with a Paw Patrol theme or simply wanting to delight your child, such a personalized caricature concept is suitable for any occasion.
2. Sonic Birthday Invitations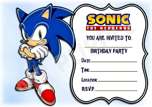 What makes a Sonic-themed birthday theme a compelling choice? - Sonic-themed invitations typically feature vibrant colors, energetic graphics, and fun designs that reflect the character's speedy and adventurous personality. Such a concept can set a positive and exciting tone for the birthday party right from the start. Moreover, opting for Sonic invitations makes coordinating other aspects of the party more accessible, such as decorations, party favors, and even the cake design, ensuring a cohesive and visually appealing party atmosphere.
3. Encanto Birthday Invitations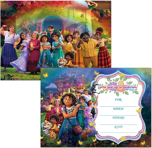 Choosing Encanto birthday invitations offers a captivating and inclusive concept for your birthday celebration and a great way to tap into the film's popularity and create excitement among your guests. "Encanto" was a widely acclaimed Disney movie with a heartwarming story, captivating characters, and memorable music; many people fell in love with it. Incorporating these characters into your invitations lets your guests establish a personal connection with the theme, increasing the likelihood of their attendance and active participation.
4. Unicorn Birthday Invitations
It's hard to miss the magical unicorn trend that has captured children's hearts everywhere. Unicorns bring whimsy, charm, and vibrant colors to any celebration, making them the perfect choice for your child's special day. If your little one is a unicorn enthusiast, our Unicorn Birthday Invitations are tailor-made for you!
5. Minecraft Birthday Invitations
Whether you're exploring caves, crafting tools, or building virtual worlds, Minecraft invitations can set the stage for a blocky and unforgettable birthday party experience, as it is known for its collaborative and interactive gameplay. Minecraft's blocky graphics are visually striking and easily recognizable. You can incorporate this into your invitations by including puzzles, riddles, or challenges related to the game.
6. Dinosaur Birthday Invitations
Exploring fossils, digging for dinosaur bones, or imagining epic adventures with dinosaurs taps into a child's desire for adventure and science. The concept invites young explorers to journey to a world that existed millions of years ago, filled with awe-inspiring creatures and mysteries waiting to be uncovered. Such themed birthday invitations are centered around returning to that age and incorporating various dinosaur species, lush vegetation, and perhaps even a volcano.
7. Frozen Birthday Invitations
Choosing Frozen-themed birthday invitations can create a magical and memorable experience for a birthday party. The concept immerses guests in the enchanting world of Arendelle, and kids love the characters from Frozen for their relatable emotions, magical adventures, and catchy songs. Whether it's the story, the characters, or the enchanting visuals, Frozen captures children's hearts and offers an opportunity to create a birthday celebration filled with warmth, love, and fun.
8. Minnie Mouse Birthday Invitations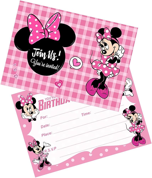 Choosing Minnie Mouse-themed birthday invitations can create a charming and enchanting atmosphere for a birthday party. The concept is timeless, lovely, and versatile, making it suitable for various age groups and party styles. Kids adore Minnie Mouse for her adorable appearance, positive qualities, and role as a symbol of friendship and fun in the Disney universe. Whether it's the bow, the polka dots, or the Disney magic, Minnie Mouse brings joy and delight to children's celebrations, making it a fantastic choice for a birthday party theme. Why wait any longer? Place your order today!
9. Invitations inspired by Transformers
Transformers can be an exciting and action-packed choice for a birthday party, especially if the birthday child is a fan of these iconic robotic heroes. The ability to transform from robots to vehicles or other forms is captivating for children; it creates wonder and excitement as they engage in imaginative play. Moreover, the concept allows for a high degree of customization; you can tailor the invitations to feature the birthday child's favorite Transformers characters, ensuring a personalized and unique experience.
10. Invitations featuring Backgrounds with Characters from Cartoon Movies
Kids adore cartoon movie characters for their endearing personalities, exciting adventures, and the valuable life lessons they convey. Whether it's the enchantment of Disney princesses, the heroics of superheroes, or the charm of animated animals, these invitations promise a birthday celebration filled with joy, enchantment and the beloved characters that kids hold close to their hearts.
Crafting custom birthday invitations for your child is not just about setting the tone for a party; it's about creating a gateway to a world of wonder and excitement. Personalizing these invitations based on your child's interests and inspirations allows you to transform their special day into an unforgettable adventure. Remember, the endless possibilities and minor details can create a magical experience. So, as a parent, seize the opportunity to turn your child's birthday into a celebration filled with fairy tales, magic, and vibrant colors, where the journey begins with a beautifully designed invitation. Happy birthday, planning!