Best Fireman Gifts: Top 15 Ideas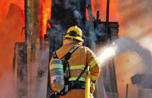 Firefighters put their lives on the line daily, fearlessly rushing into burning buildings to save lives and rescue those in need. Their selfless acts of bravery and devotion deserve our utmost gratitude. While a simple "thank you" is often sufficient, there are times when we want to go above and beyond to show our appreciation for a firefighter's hard service. Whether you have a firefighter who has gone the extra mile for you or your family, or you wish to surprise a friend or family member who recently joined a regional fire department, finding the perfect gift can be a significant gesture. Choosing a gift for firefighters may initially seem complicated, but it's a small way to recognize and honor their vital role in our communities. A personalized firefighter gift can make a lasting impression, expressing your appreciation. In this blog, we have compiled a list of the top 15 best firefighter gifts to celebrate and recognize these brave individuals who put their lives on the line for the greater good. Let's explore these thoughtful gift ideas that firefighters will love and express our gratitude for their invaluable service.
1. Personalized Fireman Cartoon
Personalized fireman cartoon drawings are the perfect present to thank courageous firefighters. These unique masterpieces depict their fearless attitude and vocation. The drawings may be personalized with the firefighter's name, department, and attributes, making them a distinctive present; it inspires them to keep working. Such unique cartoons stimulate talks and pride, whether displayed at home or in the firehouse.
2. Thoughtfully Gourmet, Sound the Alarm Fire Truck Hot Sauce Gift Set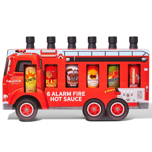 The Sound the Alarm Fire Truck Hot Sauce Gift Set from Thoughtfully Gourmet is the ideal present for firefighters with a passion for fiery flavors. This set of six spicy sauces offers various spice levels and flavor profiles. Each container is a culinary adventure, from the whiskey habanero sauce's fiery intensity to the chipotle sauce's smoky richness. Such a gift set brings enthusiasm and flavor to their culinary experiences, whether they consume the sauces during meals, share them with fellow firefighters, or use them to spice up their beloved dishes.
3. Fire Department Flame Cap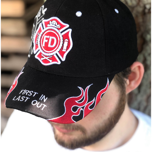 As firefighters brave the elements during their noble duty, they deserve a gift that showcases their profession and offers practical benefits. The Fire Department Flame Cap is the ultimate present for these fearless heroes; it symbolizes pride, allowing firefighters to proudly display their dedication to the fire department. Moreover, it is a trusty companion, shielding their faces from the relentless sun's rays accompanying their long hours outdoors. With its striking flame design, this cap exudes strength and resilience. It's not just a hat; it's a badge of honor that brings a sense of unity among firefighters.
4. Firefighter Maltese Cross Pillow with Personalized Name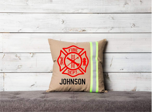 Offer this extraordinary firefighter pillow to any fire department member to see their face light up with pure joy. This present will surely elicit pure delight, featuring a reflective strip, the fire department's emblematic Maltese cross, and the option to personalize it with their name. They will be reminded of your sincere appreciation whenever they gaze at this thoughtful keepsake. Its enduring value ensures it will be treasured for many years, becoming a cherished memento of their service.
5. Fireman Gnome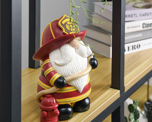 Look at this beautiful fireman gnome; isn't it wonderful? - a fascinating addition that will seamlessly blend in with their collection. This delightful gnome is adorned with an infectious smile that will brighten up any outdoor or indoor space. He exudes a genuine firefighter aura with a firehose gracefully draped around his neck and shoulders. Not only will this fireman gnome bring a touch of whimsy to the space, but it also pays homage to their noble profession.
6. Victorinox Rescue Tool Large Pocket Knife with Disc Saw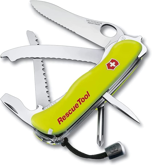 Gifts for firefighters are hard to find, but the Victorinox Rescue Tool Large Pocket Knife with Disc Saw is an absolute must. This knife was designed specifically with firefighter needs in mind. It has a memorable hook cutter that can easily cut through clothes and safety belts, allowing for quick extrication of victims from automobiles in times of crisis. In and of itself, this quality makes it a lifesaving device. The knife's exceptional quality and sturdy build make it dependable even in harsh environments. Firefighters may use it for more than rescuing people; it also has tools like a disc saw, screwdriver, window breaker, and more. It is small and lightweight enough to bring along on patrol, so you'll always be prepared.
7. HCSB Firefighter's Bible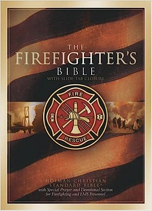 Firefighting places enormous stress on both firefighters and their loved ones. Recognizing this, the Fireman's Bible has been meticulously crafted to cater primarily to those who courageously serve in this high-risk position. This exceptional Bible features a wealth of resources tailored to the unique needs of firefighters. Within its pages are requests, prayers, and suggested Scripture readings for various occasions, offering solace and guidance in times of challenge and uncertainty. Whether seeking strength before a daring rescue or finding comfort amidst the aftermath of a crisis, this Bible provides spiritual support. Every firefighter, without exception, should have a copy of this incredible Bible. Beyond its religious teachings, it also incorporates inspirational quotes that resonate with the everyday heroes who selflessly put their lives on the line.
8. Firefighter Socks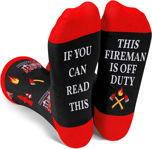 Firefighters are proud of their heroic work. If you share their pride and wish to bring a smile to their face, consider giving them a pair of stockings with a fire department motif. These charming socks feature captivating designs of axes, hoses, fire engines, and other iconic symbols. They represent your appreciation for their devoted service through a simple yet meaningful gesture. Not only do these socks add a touch of flair to their wardrobe, but they also enable them to proudly display their affiliation with the fire department; it is a modest but heartfelt gift that will undoubtedly fill the souls of these exceptional individuals with pleasure and warmth.
9. Firefighter Support Welcome Home Doormat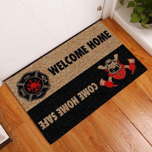 This one-of-a-kind indoor welcome mat will bring your favorite firefighter immense pleasure, particularly during the holiday season. With its captivating design of the word 'home' alongside the emblematic Maltese cross, this themed mat is ideal for their tastes. It symbolizes warmth and welcome, welcoming visitors and loved ones with a dash of firefighter pride. Combining the term 'home' with the potent Maltese cross symbol fosters a sense of belonging and appreciation for their significant role. Let this unique indoor welcome mat be the ideal addition to their home, a daily reminder that their generous contributions are cherished and appreciated.
10. Firetruck Whiskey Decanter
One exceptional gift option is the Fire Truck Whiskey Decanter. The modern style of this set allows firefighters to proudly keep their favorite spirits within, ready to be enjoyed with the engraved glasses that come with the set. The perfect present for the firefighter who has everything, this excellent set will elevate their drinking experience to the next level of refinement.
11. Fire Department Coffee
The originality of this coffee lies in its history, sourced from Fire Dept. Coffee, a company owned and operated by veterans and firefighters, holds a special significance. Not only does each cup deliver a fantastic taste, but it also embodies a sense of support and camaraderie. Fire Dept. Coffee goes beyond serving exceptional coffee; they also give back to injured firefighters and first responders, helping those facing health challenges arising from their noble profession. By choosing this coffee, you savor a delightful brew and contribute to a meaningful cause that uplifts and supports those who bravely protect our communities.
12. Fire Hat Birdhouse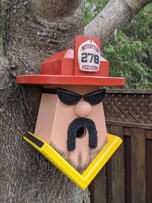 Watching birds find solace in this creative birdhouse is bound to bring immense happiness. Whether hanging in their garden or backyard, it becomes an entertaining attraction for avian visitors. Birds will swiftly remember this cozy abode as the perfect spot to nest and establish their families. The whimsical design of the birdhouse adds a touch of fun and playfulness to any outdoor area while providing a haven for our feathered friends. Gift them this unique birdhouse, and they'll be treated to the delightful sight of birds, making it their cherished home.
13. Fireman Mug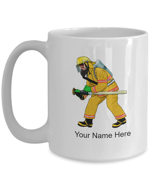 This hardy cup is an appropriate token of appreciation for their selfless work. It is a continual reminder of their dedication to defending others by being decorated with fire department themes such as a fire helmet, axe, or Maltese cross. The mug's sturdy construction and high-quality materials make it a sensible option for their morning brew. Because of its large capacity, they can fill it with their favorite drinks and have enough to last them through their long shifts.
14. Firefighter Station Gym Bag Personalized with Name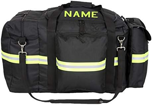 This tactical gym duffle is the ideal companion for the firefighter who is always on the move. Designed with their dynamic lifestyle in mind, it boasts a reflective stripe that mirrors their gear, proudly displaying their heroic individuality to the world. With the option to choose from a base color of black or tan, this duffle can be personalized to add an extra touch of sentiment. Crafted from tear-proof and waterproof polyester, it ensures durability even in challenging situations. Reinforced metal hardware further enhances its sturdiness, guaranteeing longevity and reliability.
15. Personalized Tan Firefighter Apron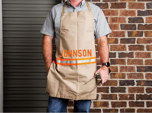 Is your firefighter a grill enthusiast? This clever apron is adorned with a reflective stripe reminiscent of their firefighting gear. With customization available, it proudly proclaims its title as the reigning grill master at any barbecue gathering. This timeless gift can be cherished and utilized year after year, making it a thoughtful choice for any occasion. With multiple color options, you can select the perfect combination that resonates with your loved one.
Given the many options available, selecting the perfect gift for firefighters can be daunting. However, this comprehensive list of the top 15 firefighter gifts is here to assist you in finding the best token of appreciation. Whether you desire a functional item that complements firefighting duties or a lighthearted gift to bring a smile to the recipient's face, this curated selection has something for everyone. By considering their interests and needs, you can make a well-informed decision and present them with a meaningful gift. May this breakdown of the best firefighter gifts aid you in narrowing down your choices and finding that perfect expression of gratitude for these remarkable individuals who put their lives on the line to keep us safe.