Hiking Gifts for Couples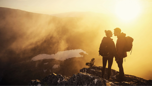 Are you ready to explore breathtaking landscapes, conquer challenging terrains, and reconnect with nature? If so, you're probably familiar with "hiking." We all have that adventurous couple in our lives—the ones who can't resist the allure of the great outdoors. They're constantly extending invitations for day trips to the mountains, claiming that the trails are more accessible than they turn out to be. Sound familiar? Finding the perfect gift for hiking enthusiasts can be daunting, whether it's your active spouse who craves the thrill of exploration or a pair of intrepid adventurers tying the knot. But fret not! In this guide, we've curated a list of the best gifts that will make any hiking lover's heart skip a beat. From practical gear to kind accessories, we've scoured the market to bring you a collection of presents that will elevate the hiking experience to new heights.
1. Personalized Artwork
Capture the spirit of a hiking-loving couple's journey with a beautiful caricature, a cherished symbol of their adventurous temperament. Whether adorning a wall, gracing their work desk, or proudly displaying as their online avatar, this delightful treasure reminds them of their triumphs and unwavering love for the trails. The picturesque backdrop instantly transports us to their exciting world, imbued with vibrant hues and playful details.
2. Outdoor Blanket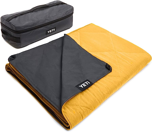 YETI's outdoor blanket is the ideal gift for a hiking couple. Not only is it waterproof, but it also repels dirt, burrs, and pet hair. This all-terrain toss is super soft, insulated, and designed to fit two people comfortably. It's the perfect size for hiking and will be their go-to choice for picnics at scenic vantage points. Surprise them with this versatile and durable blanket that enhances their outdoor experience.
3. Hiking Socks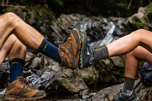 It's not a secret that hiking enthusiasts need more socks. A durable pair of socks are a must-have for avid hikers, as they provide reliable protection against blisters, even during long treks. The socks remain breathable and moisture-wicking despite their thickness, ensuring all-around performance in various conditions. Trust us, a good pair of heavy-duty socks is designed to keep hikers comfortable and blister-free throughout their adventures.
4. Wood Hiking Sign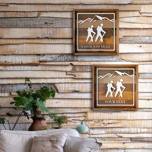 With such innovative wall decor, you can help hiking enthusiasts decorate their homes while showing their pastime. Meticulously crafted from all-natural alder and beechwood, it features a delightful depiction of a pair of hikers alongside the whimsical phrase "Couples Therapy." This charming gift is perfect for hiking couples, making it ideal for special occasions such as weddings, anniversaries, or holiday celebrations.
5. Flannel Beer Koozies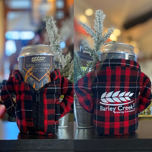 These covers are simply irresistible, aren't they? It's no surprise that beer is a favorite among hiking enthusiasts, as a cold one after a challenging trek is genuinely refreshing. Ensure their beverages stay chilled during climbing adventures with these delightful can koozies that resemble cozy flannel jackets. Grab a pair to create an adorable gift for hiking couples who love exploring the trails together.
6. Trekking Poles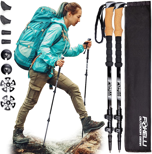 Choose the essential gear for hiking adventures. Whether our heroes are conquering icy mountain peaks or enjoying a stroll in your neighborhood, our all-inclusive set of durable accessories and tungsten carbide tips guarantees reliability across any terrain and season. Pay attention to the value of hiking poles; they provide vital knee protection from the impact of walking, especially downhill, enhance speed and endurance, and improve overall balance. With these hiking poles, embarking on more challenging treks becomes significantly more accessible, allowing anyone to confidently tackle even more incredible adventures.
7. A Coffee Mug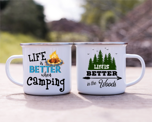 When it comes to gift-giving, simplicity often holds excellent value, and a reliable enamel mug is no exception. It is greatly appreciated and offers an opportunity to personalize your hipster experience through full-color photo, logo, or design printing. Whether indoors or outdoors, this mug proves itself as a versatile companion, able to withstand the dirt and grunge of campsites. Its sturdy construction ensures durability, while its stylish appearance adds a touch of sophistication. This mug is the perfect vessel for outdoor escapades, whether you're savoring a hot cup of coffee, a comforting tea, or even enjoying your morning cereal amidst the wilderness.
8. Straw Water Filter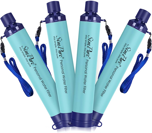 Rest assured; this gift will be far from ordinary. Such a helpful item offers incredible versatility as an indispensable companion for various activities such as backpacking, hiking, camping, and travel. It is also invaluable for fishing, hunting, and preparing for natural disasters. This gift for hikers will undoubtedly leave them thrilled and eager to quench their thirst in the great outdoors!
9. Food Dehydrator
For those who enjoy outdoor activities, snacks are essential while on the trail. And when it comes to healthy snacks, nothing beats homemade ones prepared with fresh ingredients. With the help of Food Dehydrators, you can dry fruits and vegetables and even make jerky from meat in just a few hours. These dehydrated snacks have a long shelf life and retain up to 90% of the original nutritional value naturally present in the food. Hikers will be thrilled to bring homemade snacks packed with flavor and protein on their outdoor adventures.
10. A Backpack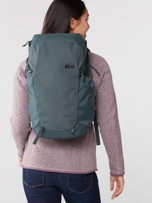 For hikers who want a backpack that can be used for day trips and exploring cities, the REI Co-op Ruckpack 28 is a great choice. It has comfortable straps for your shoulders, many different pockets in various sizes, and a special section inside where you can put either a water reservoir or a laptop. It even has a rain cover to keep your hiking gear and essential items dry.
Behold the wonders within this blog's gift suggestions! They transcend the boundaries of a couple's shared passion, extending their allure to all hiking enthusiasts. Whether your quest is for outdoor treasures tailored to her, him, couples, or even entire families, a treasure trove of splendid gifts for hikers awaits! The power lies in your hands to select the one that shall conjure the widest grin upon the faces of your beloved companions!