Custom Gifts For Labrador Lovers: 7 Ideas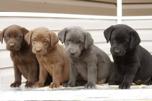 Labradors have earned their place as beloved family dogs due to their delicate nature, patience, and ability to get along with children. Their intelligence and substantial size often make people mistake them for vigilant guard dogs. Whether or not you have Lab enthusiasts in your circle of loved ones, chances are you've encountered these charming canines in local parks or dog playgrounds. This blog has compiled an impressive list of 11 custom gift ideas tailored explicitly for Lab owners and enthusiasts. So, if you're searching for the perfect gifts for Labrador lovers, including Christmas gifts for Labrador lovers, look no further. Let us inspire you with these fantastic dog-themed gift options that will bring joy to the hearts of canine enthusiasts.
1. Labrador Caricature
Labrador Caricature is a fantastic creative idea that captures the essence of these photogenic breeds. With their charismatic, gentle, and loving nature, Labradors have a unique way of captivating their owners' hearts. They are more than just pets; they are cherished family members, so they deserve a special place of honor in the family's collection of portraits and paintings.
2. Labrador Doormat
In today's trend of appreciating practical yet personalized gifts, the Labrador Doormat is a brightly creative idea. It serves the dual purpose of being functional and adding a personal touch to a home. In particular, a doormat tells more about the inhabitants, especially when one of them is a beloved canine companion. It keeps the home clean and becomes a charming introduction to visitors, providing a glimpse into the warmth and love shared within.
3. Labrador Phone Cases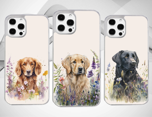 Who wouldn't appreciate a stunningly customized phone cover? Explore a range of designs showcasing black, yellow, or chocolate Labradors to find the ideal match for your style. Such phone cases make excellent gifts for Lab enthusiasts who lead busy lives and are constantly on the move, allowing them to carry a piece of their passion wherever they go.
4. A Tote Bag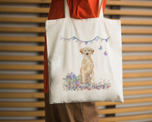 A Tote Bag - is a must-have item that seamlessly combines practicality and trendiness, allowing you to express your love for Labs while adding flair to your outfit. Undoubtedly, any dog parent would deeply appreciate such a kind present. With its generous space, this functional and stylish accessory is an ideal choice for lab lover gifts for any occasion. It caters to their needs while also adding a touch of fashion-forward charm.
Labrador Caricature
Are you looking for an unusual and personalized gift for your pet lover, friend, sibling, cousin, parent, kid, or any Labrador owner? Upload photos of your dog, and we will deliver a custom portrait you'll love! We are experts in Chocolate Labrador, Labrador Retriever, or Labrador puppy Caricatures.
5. A Personalized Puzzle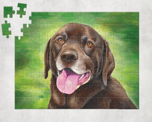 It's widely known that puzzles are a delightful gift option. So, why not consider gifting such a creative item that may ignite the recipient's enthusiasm to proudly frame the completed illustration instead of disassembling and storing it in the box? The image of the Labrador brought to life through 1000 intricately designed pieces will serve as a constant reminder of their love for this beloved breed. It's a thoughtful and memorable gift that combines the joy of puzzling with a lasting keepsake.
6. Custom Dog Magnetic Bookmarks And Stickers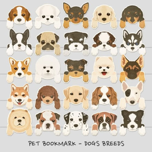 Is there a more enjoyable experience than cuddling up with a captivating book while your furry companion rests in your lap? Well, indeed, there is! Imagine a creative bookmark designed in the likeness of your beloved pet. These charming magnetic page-savers are impressively precise and reasonably priced, making them an excellent gift suggestion or a considerate gesture to bring joy to someone's day. You can even opt for a personalized package with these bookmarks and custom pet stickers, making it an ideal gift for someone who loves Labradors.
7. A Custom Throw Blanket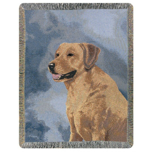 A Personalized Blanket like this would be an excellent gift for any dog enthusiast. Imagine the joy of experiencing double the snuggles with your furry companion every evening. These lovely blankets are available in various colors and crafted from thick, durable materials, ensuring longevity and coziness. Whether on the move or enjoying a relaxing moment on your couch, these blankets are the perfect addition. Be prepared for delighted expressions and curious inquiries about its origin as you proudly display it. Moreover, each item features embroidered names, adding a personalized touch to make it truly special.
There are numerous options for finding the perfect gifts for Labrador Retriever lovers. However, caricatures are one standout choice that adds a touch of creativity and personalization to any gift. These whimsical and artistic representations of beloved Labradors capture their unique characteristics and bring them to life in a fun and unforgettable way. Whether it's a custom portrait hanging proudly on the wall, a playful caricature printed on a t-shirt, or a cute and comical caricature mug for morning coffee, these custom gifts will surely bring a smile to the face of any Labrador enthusiast. Caricatures not only showcase the distinct features and personalities of Labradors, but they also serve as a heartwarming reminder of the special bond shared between a Labrador and its owner.