Unique Military Retirement Gifts For Family Members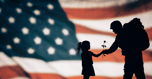 Military retirement is an important milestone celebrating the culmination of a dedicated career in service to our nation. It's a time to honor the sacrifices made by our heroes and their loyal family members who have stood by their side throughout the journey. If you're searching for a memorable gift to mark this momentous occasion and express gratitude to a retiring military family member, you've come to the right place. This blog post will explore a collection of unique and heartfelt military retirement gift ideas specifically curated for family members.
1. Personalized Artwork
Now that our hero is transitioning into a new chapter of spending quality time with their family, what better way to commemorate their military retirement than with a Personalized Caricature? This unique gift is a remarkable addition to our special collection of pictures and memories. The Military Family Caricature, an actual work of art, will delight anyone who sees it proudly displayed on their home's wall.
2. A Wonderful Experience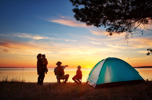 A Wonderful Experience is the perfect unique military retirement gift for family members. Unlike material possessions, this gift offers something priceless: quality time spent together. Camping, for instance, provides a physical getaway from sedentary routines at home. Setting up tents, gathering firewood, and going for hikes naturally engage us in physical activity, promoting fitness and raising our heart rates. It offers an opportunity to reconnect with nature, create lasting memories, and fortify family bonds in a way that material objects simply cannot.
3. Military Hats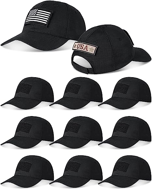 The Military Patch Hats emerge as the ideal unique military retirement gift for family members. These beautiful items symbolize the retiree's honorable service and dedication to their country. Additionally, they offer practicality and style, providing a shield from the sun's rays and adding a touch of military flair to any outfit. By gifting these caps, we honor and celebrate our loved one's military legacy while providing them with a functional and fashionable accessory they can proudly wear for years.
4. A Military Wreath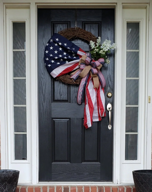 A Military Wreath is the highest unique military retirement gift for family members. It is a beautiful decoration with a profound meaning that evokes admiration and respect. This unique gift becomes a focal point in the home, captivating the attention of visitors who will inquire about its origin. It is a gift that will be treasured, admired, and appreciated by all who enter the home.
5. Whatever - I'm/We're retired Clock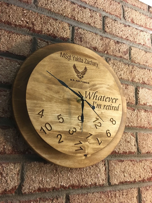 The Military Funny Clock stands out as the greatest unique military retirement gift for family members. Much like football time, retirement time moves at its own pace, disregarding the constraints of a clock. Its clever design reminds them that the exact numbers on the clock are inconsequential in this new chapter; it brings a lighthearted touch to their daily life, a playful reminder that they are no longer bound by duty. In other words, this clock is a delightful and meaningful gift, celebrating their transition into a more relaxed and carefree phase of life.
6. Military Alphabet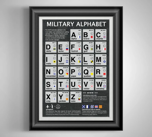 The Military Alphabet makes a remarkable impression when considering unique military retirement gifts for family members. With this print on the wall, all family members can finally decode the retired servicemember's military jargon, such as Whiskey Tango Foxtrot. It adds a stylish touch to the space and fosters a sense of connection and understanding among our loved ones.
7. Retired Military Alphabet Shirt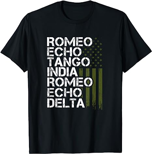 Wearing this shirt becomes a source of pride, creating a strong bond and shared laughter among family members. The military alphabet, deeply ingrained since boot camp, holds significant memories and experiences. Now, in the context of retirement, these letters bring laughter and joy. It is a gift that combines comfort, style, and sentimental value, making it a perfect choice to celebrate the retiree's military journey with loved ones.
8. Halo Collector's Edition Monopoly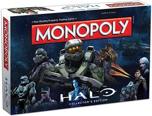 Choose the Halo Collector's Edition Monopoly as a unique military retirement gift for family members. This particular edition game transforms the classic Monopoly experience into an exciting adventure set in the Halo universe. Players can select from various incredible pieces, such as the Warthog, Energy Sword, and Master Chief's Helmet, replacing the traditional game tokens. As they navigate the game board, they can build Firebases and Fortresses, collect Commendations and AL cards, and purchase iconic locations from the Halo universe. It's a gift that combines the joy of gaming with a celebration of military culture, making it a perfect choice for honoring their retirement and creating memorable moments together.
9. Mega Halo Infinite Toy Vehicle Building Set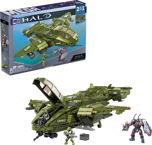 Taking its place on the list of top Halo gifts, the Halo Pelican Inbound Vehicle Building Set brings thrilling battles to dining room tables worldwide. This impressive building set assembles into the UNSC's beloved masterpiece, The Pelican. With movable wings, functional landing gear, and a figurine-friendly cockpit, it offers an immersive play experience. Furthermore, it boasts numerous hidden surprises and intricate details to discover as you construct it. The set includes the Pelican pilot, the iconic Master Chief, and a formidable Hunter, adding excitement and diversity to your epic battles. Embark on this building adventure and uncover the secrets of this remarkable Halo vehicle.
10. Halo Jigsaw Puzzle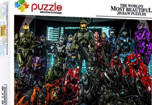 What could be more appropriate than a puzzle? With 1,314 wooden pieces, it offers a challenging and engaging activity that can be enjoyed with mates or family members. As you piece together the puzzle, you'll encounter many characters from the game, immersing you in the rich Halo universe. The intricate design, featuring similar pieces, will test your problem-solving skills and require you to engage your cognitive abilities. Once completed, this unique puzzle can be framed as a proud testament to your accomplishment and a cherished memento of your dedication. It's a gift that encourages teamwork, stimulates mental acuity, and provides a sense of achievement. It is ideal for honoring a military retiree and creating memorable moments with loved ones.
Finding the perfect military retirement gift for your beloved family members can be a sincere gesture celebrating their dedication and service to our country. When honoring the service of Halo fans in your family, opting for gifts that resonate with their passion for the iconic gaming franchise can be a winning choice. Whether it's an intricately designed Halo-themed puzzle, a vehicle building set, or a personalized memorabilia item, these gifts for Halo fans will undoubtedly leave a lasting impression. Remember, the value of these unique gifts lies in the love and appreciation they convey, symbolizing the unbreakable bond that family shares during military service and beyond. So, let your loved ones know how much they mean to you with a thoughtful and meaningful gift that speaks directly to their Halo fandom and honors their incredible commitment to defending our nation.