Mother's Day Gift Drawing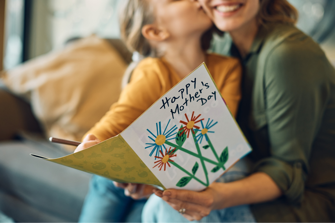 As the calendar approaches May 14, the excitement of honoring and cherishing our mothers, their unconditional love, and the essence of motherhood fills the air. Mother's Day is an exquisite occasion to express gratitude to these incredible women who have nurtured and supported us. If you're on the hunt for the ideal Mother's Day gift and feeling a bit stuck trying to find something that truly expresses your love, we've got a fantastic solution for you – custom Mother's Day gift ideas with a creative drawing! This Mother's Day, why not let your artistic spirit soar and present your mom with a gift straight from the heart? In this blog, we have curated a collection of the best Mother's Day gift drawings that will surely warm her heart and bring a smile. We take pride in offering you diverse artistic expressions, from heartfelt and straightforward sketches to intricate and personalized portraits, ensuring that your gift will be truly one-of-a-kind and a unique celebration of your special bond.
1. A Beautiful Drawing with Floral Background
$39.99

$20
When we think of the word "mother," the image of flowers naturally comes to mind. Her beauty and soothing voice can bring forth a sense of spring in everything around us. While this is a metaphorical expression, a skillfully crafted drawing with a floral background can genuinely elevate the essence of this beautiful presence in our lives, adding a touch of natural beauty to the artwork. Moreover, a heartfelt inscription can further enhance the piece's emotional impact.
2. Supermom Caricature Drawing
Honoring our mothers' superhero status on Mother's Day through a creative drawing is a beautiful tribute to their boundless acts of Unconditional Love, Healing Powers, Endless Sacrifices, and Wisdom Guidance. It beautifully celebrates their selflessness and affection.
3. Mother with Kids Drawing
Another heartfelt way of showcasing your affection for this exceptional person is by ordering a touching 'Mother with Kids Drawing.' This sentimental artwork is bound to evoke a mix of emotions and tears of happiness, undoubtedly leaving a lasting impact.
4. Mother Portrait in Black and White
An exquisite black-and-white Mother Portrait has the power to move her heart, evoking a flood of emotions deeply. The allure of a timeless black-and-white portrait is undeniable; its intricate and delicate lines, the masterful interplay of shadows, and the resulting depth and sophistication are genuinely captivating. The focus shifts entirely to the subject's expression, stripped of color, magnifying the raw emotions beautifully preserved within the artwork.
5. Multitasking Mother
The boundless capabilities of mothers never cease to amaze. They effortlessly juggle countless responsibilities, and not only do they manage to fulfill them all, but they do so with remarkable skill and perfection. This Mother's Day, honor her incredible achievements with a heartfelt Multitasking Mother Drawing—a gift that will truly celebrate her as the exceptional woman she is. The artwork is a tribute to her multitasking prowess, capturing the various roles she effortlessly embodies with grace and efficiency. From being a nurturing caregiver to a talented problem solver, a dedicated cheerleader, and a dependable friend, she wears each hat with finesse, exemplifying the epitome of multitasking.
The beauty of a custom drawing lies not only in its artistic merit but in the emotional connection it fosters between you and your mother. Regardless of which method of use you choose, you are the one who knows your mother best and her preferences and character. This understanding gives you the power to create a gift that resonates with her on a profoundly personal level, making it all the more cherished. This year, take the opportunity to celebrate and honor the woman who has given you so much love and selflessness. A custom Mother's Day gift is a present and a lasting memory of your bond, reminding her of your gratitude and admiration.