Personalized Star Wars Gifts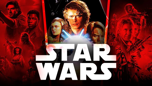 Are you ready to embark on an intergalactic journey filled with personalized wonders? If you're a die-hard fan or happen to know one, brace yourselves for an outstanding collection of Star Wars treasures. We've got everything from captivating toys that transport you to a galaxy far away to home decor pieces that infuse your surroundings with the Force. And that's not all! Our galaxy-spanning lineup also includes personalized Star Wars artworks that exude the essence of the Star Wars saga and Jedi Hooded Towels that turn simple endeavors into epic adventures. Even if you lack knowledge about the distinctions between a Grogu and a Porg or have never witnessed a Star Wars film, you can still select a fantastic themed gift for the dedicated fan on your list. To help you get started, we have compiled a range of suggestions. Below are some of the finest Star Wars gifts suitable for any occasion.
1. Star Wars Caricature
A Star Wars caricature is the greatest gift for any Star Wars fan! Combining creativity and fandom, it captures the essence of beloved characters uniquely and hilariously. With its whimsical exaggerations and playful interpretations, the caricature brings laughter and joy, reminding the fan of their deep connection to the galaxy far, far away. It's a personalized masterpiece that perpetuates their passion and becomes a cherished keepsake, forever reminding them of their love for the iconic saga.
2. Baby Yoda Inspired Acrylic Christmas Ornament
Embrace the holiday mood with Baby Yoda! Ensure your holiday celebration is complete with this beautiful ornament, an essential for all "The Mandalorian" enthusiasts. The lovely design showcases your beloved character, enhanced by a charming frosted glitter coating that adds a touch of winter enchantment. The ornament measures approximately 3 inches, crafted from lightweight acrylic. It has a green ribbon adorned with glitter, allowing you to hang it on your Christmas tree effortlessly. Who wouldn't want some Mando goodness gracing their tree this year? Such a creative gift is guaranteed to arouse curiosity on anyone's face.
3. Star Wars Car Air Freshener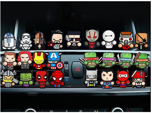 Whether the aroma of "The Force" or the refreshing scent of "Galactic Breeze," it can immerse fans in a sensory journey through the Star Wars galaxy. This unique accessory fills the recipient's vehicle with a delightful fragrance and adds Star Wars magic to their daily commute. Every time they enter their car, they'll be greeted by the iconic characters and symbols from the beloved saga, elevating their driving experience to new heights.
4. Baby Yoda Star Wars Socks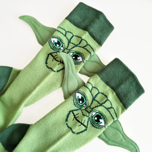 Upgrade your gift-giving game with a pair of Baby Yoda Star Wars socks, sure to wow Star Wars fans! While ordinary socks are usually a wonderful present, these take creativity and comedy to a new level. These items, adorned with Baby Yoda's lovely ears, immediately catch everyone's attention. Every step becomes a joyful reminder of the great Star Wars world, making ordinary moments feel extraordinary.
5. A Jay Franco Star Wars The Mandalorian Wanted Reward Decorative Pillow Cover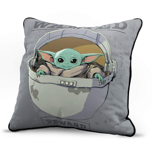 Such pillowcases offer comfort and style, crafted from high-quality microfiber and cotton. Their convenient packaging does them the ultimate must-have party favor for your kid's parties, delighting young Star Wars fans. Take them on your travels to add a touch of fandom wherever you go, and collect additional designs to suit your various needs; they make a fantastic addition to any bedroom, playroom, or lounge area, instantly transforming the space into a galactic oasis.
6. A Mug
Surprise a Star Wars lover with the ultimate gift: a mug! While it may appear a small gift, it is valuable to enthusiasts. It's not only a tangible representation of their passion for the story, but it's also a handy and appreciated gift. Every morning, when they sip their favorite beverage from this designed mug, they'll be reminded of the great battles, famous characters, and unforgettable events from the Star Wars world. It becomes a prized possession, raising and energizing their everyday routine. This mug becomes their buddy, offering comfort and delight whether they drink their morning coffee or a calming cup of tea.
7. Jedi Hooded Towels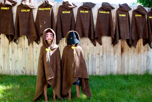 Look at this fantastic gift option; it isn't just any ordinary towel—it's a portal to a galactic adventure. As the Star Wars fans wrap themselves in the cozy embrace of the towel, they'll be instantly transported to the Jedi Order, channeling the power of the Force. The hooded design adds an extra touch of immersion, allowing them to don the persona of a true Jedi Knight. From bath time to beach trips, this towel becomes their loyal companion, providing comfort and style. Its high-quality fabric ensures durability, making it perfect for everyday use or epic intergalactic battles.
8. LEGO Minifigure Shadow Box
Delight the most passionate LEGO Star Wars enthusiast with a shadow box brimming with mini-figures. With the privilege to arrange and rearrange the figures at will, it becomes an endlessly customizable display, mirroring their creative vision. It's a tangible expression of their passion for Star Wars and a reminder of LEGO's endless possibilities.
9. Natural Quartz Crystal Carved Mandalore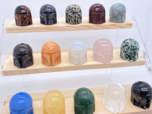 A Carved Natural Quartz Crystal Mandalore is the ideal gift for the most devoted Star Wars fans. This magnificent piece combines the natural beauty of quartz with the iconic Mandalorian symbol to create a beautiful and meaningful memento. Holding this crystal in their palms, Star Wars lovers can feel the energy and power resonating within it.
10. Star Wars Glass Mugs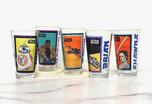 A Star Wars glass mug is an excellent present for any Star Wars fan, whether young or old. There's something for every fan in the massive variety of designs offered, from popular characters to recognizable X-wings. The glass mug not only displays their favored Star Wars features but also elevates their barware to a new level of sophistication. As they drink, they may feel the energy of a Youngling or Jedi Knight flowing through them.
We hope this article has helped you discover the ideal gift for individuals of any age who identify as avid Star Wars enthusiasts, whether adults or children. These gift ideas go beyond the ordinary, from the Baby Yoda-Inspired Acrylic Christmas Ornament that ignites the imagination to intricate painting that captures the essence of beloved characters. They reflect one's unique connection to the Star Wars universe, a testament to their unwavering passion. They can become cherished souvenirs, reminders of the adventures, lessons, and inspirations that Star Wars has presented us.
Star Wars Caricature
Discover a galaxy far, far away through the unique and entertaining world of Star Wars Caricature. This captivating category combines the Star Wars universe's iconic characters and thrilling adventures in a delightfully exaggerated and humorous art style. In Star Wars Caricature, talented artists skillfully transform beloved characters like Luke Skywalker, Princess Leia, Darth Vader, Yoda, and many others into playful, exaggerated versions of themselves. These caricatures capture the essence of the characters while accentuating their distinct features, creating a whimsical and lighthearted portrayal of the Star Wars universe.