7 Best Physician Retirement Gifts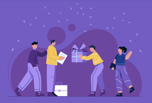 Are you having difficulty finding the ideal retirement gift for a physician? We've spent days researching and compiling a list of the best options to help you startle them with a delightful surprise. These doctor retirement gifts are the ideal method to cap off their remarkable career and leave them with a happy memory. Throughout history, physicians have played an essential role in our lives, adhering to age-old practices that define their profession. With a distinct set of knowledge and expertise, they have dedicated themselves to the well-being of patients. The doctor-patient interaction has always been of utmost importance, serving as the cornerstone of an empathetic and personal relationship that has lasted through the ages. As physicians retire, their departure marks the culmination of a remarkable career dedicated to caring for others. It is a time to celebrate their contributions and reflect on the countless lives they have touched and improved during their tenure as trusted healers.
1. Physician Retirement Caricature Gift
When it comes to retiring physicians, a personalized caricature is the best possible present since it perfectly depicts the retiree's personality. This caricature is a unique work of art that perfectly captures the retiree's likeness while highlighting their hobbies, quirks, and future goals. It is a memorable and heartfelt homage to the retiree's unique personality and distinguished medical career. Beyond a mere portrait, this exquisite creation transcends time, becoming an exquisite keepsake to be cherished throughout the ages. It encapsulates an image, a profound essence, and a testament to a remarkable journey. A fusion of artistry and sentiment, it captures the essence of a well-lived life, evoking emotions and preserving cherished memories.
2. Retirement Keychain Gifts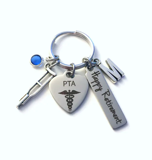 Retirement Keychain Gifts are a remarkable tribute for physicians embarking on a new life chapter. As retirement marks a significant milestone and a well-deserved accomplishment, this keychain becomes a meaningful token to celebrate their victorious career. It symbolizes the transition into a more relaxed and carefree life. The keychain is a constant reminder of the love and support from friends and loved ones during this incredible journey. It's a small yet powerful gift with heartfelt sentiments, making it a perfect keepsake for retirees.
3. A Personalzied T-Shirt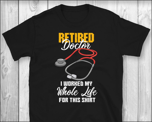 A Personalized T-Shirt is an excellent idea for the retiring medical professional who takes pride in their career. This fun and unique retirement gift will let them celebrate their achievement in style. Everyone will love this hilarious retirement shirt that reads, "I worked my whole life for this T-Shirt." This item is perfect for retirement parties since it displays a sense of humor and will spark some hilarity with its brilliant joke. It's a fun and creative way to recognize the retiree's hard work and devotion.
4. Hand-made 3D String Art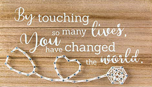 For physicians, Hand-made 3D String Art is the perfect gift for significant milestones such as retirement. It is delicately adorned with cotton thread, featuring a lovely heart-shaped pattern. This versatile gift can be placed on tables, walls, or rooms, adding an adorable touch. With its unique craftsmanship and heartfelt design, it will surely bring happiness to any medical professional.
5. White Coat Wine Bag for Doctors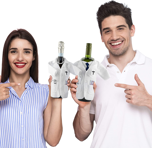 The White Coat Wine Bag for Doctors is a gift box made of felt material mainly created for wine packing. At retirement celebrations, its exquisite white jacket, fashionable tie, or other accessories effortlessly draws attention. These fantastic items go beyond appearances, including symbols of medicine such as a stethoscope, syringe, and capsule. It expresses gratitude and appreciation and is ideal for doctors, physicians, nurses, medical students, pharmacists, veterinarians, ophthalmologists, and dentists. Give your cherished healthcare workers a one-of-a-kind and beautiful present to make them smile on their special retirement day.
6. Physician Travel Coffee Mug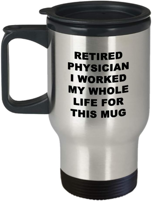 The Physician Travel Coffee Mug, crafted from durable stainless steel, is a practical and thoughtful gift designed specifically for physicians. The item has an easy-grip handle and thumb rest, providing comfort during travel or busy shifts. Its tapered bottom fits perfectly in a standard cup holder, making it convenient for on-the-go use. The image on the mug is printed using high-quality sublimation inks and printing techniques, ensuring a long lasting and vibrant print that withstands regular use and washing. In other words, it is the perfect gift that combines functionality and durability, making it a practical companion for busy physicians on their daily journeys.
7. Personalized Medical Keepsake Crystal Clock Engraved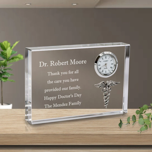 When the moment arrives for a physician to retire from their noble profession, honor their impactful years of saving lives with a cherished Personalized Medical Keepsake Crystal Clock; it can be uniquely engraved with the physician's name, adding a personal touch. Rest assured, and this unique memento will find its rightful place on their shelf or desk, constantly reminding them of their dedication and accomplishments. With its elegant design and customized details, this gift is a heartfelt tribute that symbolizes gratitude and admiration.
We hope this retirement gift for a doctor's guide has inspired you to find the perfect token of appreciation for the doctor in your life. With your thoughtful gift, they can gracefully ride off into the sunset, ready to embark on an extraordinary journey of relaxation, fulfillment, and endless possibilities.