10 Custom Gifts For Pilots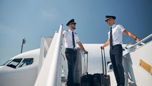 Are you looking for the perfect gift for the pilot in your life? Look no further! We've scoured the internet to find the most unique and personalized gifts for pilots and compiled them into one convenient list. Whether you're celebrating a holiday, birthday, graduation, retirement, or any other special occasion, we've covered you with these ten custom gifts for pilots. The best gift ideas for pilots combine exciting and creative items that also come in handy and work perfectly. So get ready to make your favorite aviator's day with these fantastic gift ideas - let's dive in!
1. A Pilot Caricature
A caricature will be an exceptional and memorable present, even for the pilot who seemingly has it all. While they may already possess the latest gadgets and aviation gear, a caricature offers a unique and heartfelt gift they won't find anywhere else. Our personalized artworks capture their individuality and passion for flying in a way that cannot be replicated. With attention to detail and a touch of humor, our skilled artists will create one-of-a-kind illustrations that celebrate their love for aviation. So, surprise them with a personalized caricature, and watch their eyes light up joyfully!
2. Airplane Cufflinks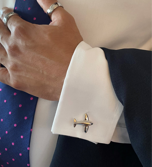 If you're searching for gifts tailored to pilots, these airplane-designed cufflinks fit the bill perfectly. Such small items offer a fantastic gift option, ideal for the guy who seemingly possesses everything, avid collectors, or those embarking on a new job that demands more formal attire. Thanks to their secure and user-friendly closure, these cufflinks guarantee a stylish and practical adornment that remains firmly in place all day.
3. Briggs & Riley 3 Pack Zippered Packing Cubes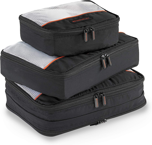 Packing cubes revolutionize the travel adventure for pilots and frequent travelers alike. Consider them as convenient drawer organizers for any suitcase. Your pilot friend will truly appreciate how these cubes efficiently save ample space in their bag and significantly reduce the time spent on packing.
4. To–Go Coffee Mug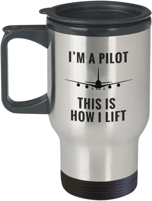 Ideal for your flight instructor friend, relative, or dad, this to-go coffee mug makes for the perfect gift. Designed specifically for individuals who are always on the go and need an extra energy boost, such gift items offer unparalleled convenience and functionality. Its personalized details add a touch of elegance, making it a thoughtful and emotional present. Whether your loved one is rushing between flights or navigating a busy day, this to-go coffee mug will be their trusted companion.
5. Airplane Bottle Opener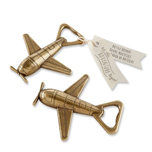 While looking for a pilot retirement present or graduation gift idea, try an excellent aviation-themed present for pilots who like unwinding with a cool beverage on their days off. This one-of-a-kind present not only offers a personal touch but also adds a fun aspect to barbecue parties and not only. It represents the pilot's love of flying even outside of the cockpit.
6. 3D Airplane Projection Night Light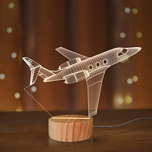 Opt for the 3D Airplane Projection Night Light, an attractive gift choice for pilots. Despite its flat structure, this aircraft nightlight utilizes advanced 3D technology to create an astonishing optical illusion. It serves as a splendid present for birthdays, Christmas, or Easter, appealing to any pilot in your life. Whether used at home, in the bedroom, restaurant, outdoor bar, shop, cafe, or as party decoration, it adds a touch of enchantment to any setting. The night light emits a gentle and warm yellow light, designed to safeguard your eyes and provide a soothing ambiance; its soft illumination guarantees an ideal bedtime companion.
7. Sony Alpha A6600 Mirrorless Camera with 18-135mm Zoom Lens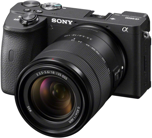 Even though pilots may appear to have everything, a high-quality camera will always be a welcome addition. Among the many advantages of being a pilot is the opportunity to explore captivating new destinations regularly; that's why a high-quality camera would act as a practical gift. This exciting item empowers pilots to capture their extraordinary journeys, acting as a wellspring of inspiration and a medium to share their adventures with others.
8. Sunglasses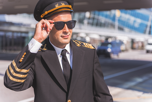 Sunglasses make the most practical gifts for pilots, as clear vision is essential while flying. Such a gift can become a trusted companion during flights, shielding their eyes from intense glare and ensuring optimal visibility. Today, we are presented with an extensive selection of styles and features to explore. However, to avoid disappointment, it is advisable to select brands that have stood the test of time, ensuring both quality and reliability.
9. Airplane Whiskey Decanter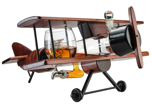 An Airplane Whiskey Decanter is a superb choice when searching for the perfect gift for pilots that guarantees to leave a lasting impression and truly wow the pilot in your life. The decanter's unique airplane design adds a touch of aviation charm that resonates with its passion for flying. To make it even more special, consider adding a customized plaque, transforming it into a personalized keepsake they'll proudly display and cherish for years to come. Every time they pour a drink, they'll be reminded of your thoughtful gesture and their love for aviation.
10. Scratch Off Travel Map Poster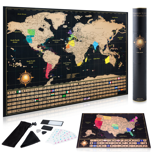 Such an interactive map allows pilots to scratch off the places they have visited, revealing vibrant colors and intricate details underneath. It becomes a personal record of their travel experiences, sparking joy and fond memories. Moreover, the map is a source of inspiration, helping them plan their next escapades. The best part is that it doubles as a stunning decor piece, adding a touch of wanderlust to their home or office.
We have reached the end of exploring ten custom gifts for pilots. Throughout this journey, we have shared pilot gift ideas, catering to various occasions and relationships. Whether you're seeking a gift for a new pilot embarking on their aviation career, a thoughtful pilot retirement gift to honor their years of service or a special gift for a pilot boyfriend or husband, we've covered it all. This article also provided gift ideas for pilot students and suggestions for celebrating pilot graduations. We hope our creative list of custom gifts has sparked your imagination and assisted you in finding the perfect token of appreciation for the pilot in your life. Remember, these gifts are not merely objects; they symbolize admiration, support, and recognition for their dedication and passion. So, pick a gift that resonates with their interests, reflects their love for aviation, or brings a smile to their face. Happy gifting!