Unique Graduation Gifts for Son: 7 Ideas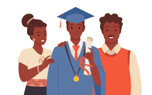 Are you searching for a thoughtful gift for your son's graduation? Graduation marks a momentous achievement in everyone's journey—a culmination of years of studying and the dawn of a promising career path ahead. As parents, we are eager to acknowledge and celebrate our children's accomplishments on this special occasion. In this blog, we bring seven unique and thoughtful ideas for graduation gifts for your son, tokens of appreciation that will make this milestone even more unforgettable. Let's kick off the fun and journey together to find the perfect graduation gift for a son.
1. A Personalized Caricature
How would your son react upon seeing a humorous caricature of himself donning a graduation cap? His delight would be undeniable. As time passes, this thoughtful gesture will only grow in significance, and he will cherish it even more deeply. As a graduation gift for your son, with each passing year, the sentimental value of this unique present will continue to soar, invoking fond memories and putting a smile on his face every time he glances at it.
2. A Personalized Dock Station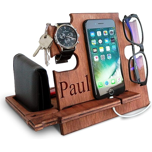 To demonstrate your care for the graduate, consider gifting them one of these priceless graduation gift ideas for your son. A dock station is both functional and versatile, accommodating a variety of devices such as phones, tablets, and watches. The sleek design boasts ample charging space, eliminating the clutter of cords and devices.
3. National Parks Scratch Off Poster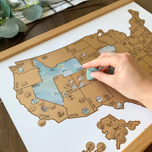 An exceptional concept, the poster featuring 63 US National Parks becomes an original, creative gift. The recipient can scratch off visited parks, creating a stylish display of his adventures, making it an ideal choice for nature enthusiasts. It offers a personal touch by allowing memories and dates to be inscribed beside the parks visited together.
4. DuoMeDoll Custom Graduation Bobblehead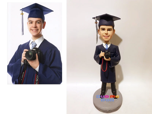 Nothing beats a bobblehead as a desk trinket; as a personalized graduation gift, it's an unexpected delight. It's like a fun and unique trophy to celebrate the achievement of graduating.
5. Apple Watch Series 8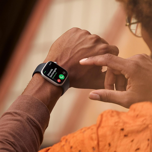 An Apple Watch is the most coveted graduation gift for those joining the 'real world.' This intelligent device enhances productivity for any professional, allowing them to handle calls, track steps, and manage calendar appointments right from their wrist.
6. Personalized Yeti Cups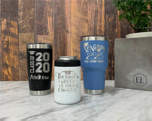 Are you looking for the perfect graduation gift for your college-bound son? Consider adding a personal touch by customizing the cup's name, giving it that unique and extra flair. A reliable cup becomes a valuable companion! Yeti cups are durable, maintaining optimal temperatures for hot or cold beverages as required.
7. A Wireless Charge Station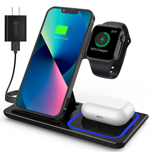 This remarkable 3-in-1 charge station is designed to simultaneously charge three distinct devices, catering perfectly to individuals who rely on multiple gadgets in their everyday routine.
To sum up, going beyond a card with an inspiring quote, thoughtful pre-planning can create a significant impact. Our carefully curated list of seven gift ideas, from sentimental keepsakes to practical adulting essentials, is guaranteed to extraordinarily convey your love and appreciation.