Super Daddio Gift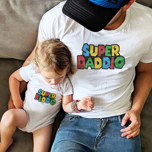 Fathers play a significant role in our lives; they are like pillars we can rely on in any situation, no matter how complicated. Sometimes, it's hard for us to say a sincere 'I love you,' as an alternative, personalized gifts come to our aid, which would speak for us; that's where 'Super Daddio Gift' comes into play. A "Super Daddio" is not just a father in the traditional sense; they are perceived as a superhero in the eyes of their children or loved ones. This term conveys the idea that these dads possess qualities like love, care, support, and dedication that make them stand out and truly special in the lives of their families. It's a term of endearment and recognition for fathers who go the extra mile to be there for their kids and positively impact their lives. Below, we will provide you with various choices to astonish your father pleasantly and subtly convey that 'Super Dad' accolade to him.
1. Personalized Caricature
What makes a personalized caricature priceless? A personalized caricature isn't just for the moment; it's a lasting tribute to your dad's role in your life. It can be proudly displayed in his home or office, constantly reminding him of your love and appreciation. Dads are often seen as superheroes in their children's eyes; they protect, guide, and provide for their families like superheroes do for society. Personalized caricatures can playfully emphasize this superhero aspect by depicting your dad heroically or comically, showcasing his "superpowers" like fixing things, giving wise advice, or telling dad jokes.
2. Super Daddio Shirt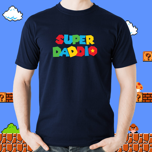 A Super Daddio Shirt is a meaningful gift emphasizing the significance of simple and practical gestures of love. It's a token of your affection that he can wear proudly, embodying the idea that sometimes, the most appreciated gifts are the ones that offer comfort and warmth both in style and sentiment. Comfort is critical; a comfortable shirt can make your dad's daily life more enjoyable. Whether tackling household tasks, running errands, or simply relaxing, a well-fitting shirt enhances his comfort and ease.
3. A Super Daddio Mug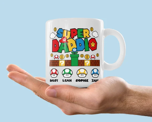 A Super Daddio Mug is the perfect vessel for your father to enjoy a hot cup of tea, coffee, cocoa, or any other favorite drink. It provides a comforting and cozy way to combat the cold weather, making it a thoughtful gift for the season. Each time your dad reaches for the mug, he'll be reminded of your love and appreciation; it's a gesture that keeps giving, making him feel special whenever he enjoys a drink.
4. A Super Daddio Hat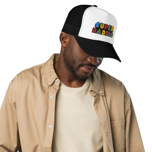 Are you ready to make your dad feel like the superhero he truly is? Look no further than the Super Daddio Hat, a gift that combines style and sentiment to celebrate the incredible dad you know and love. Crafted with the finest materials, the Super Daddio Hat boasts a sleek and modern design that suits any dad's fashion sense. It's not just a hat; it's a symbol of gratitude, love, and admiration for the superhero dad who's always there for you.
5. A Personalized Tumbler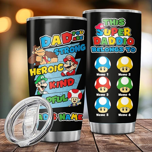 Make your dad feel like the superhero he is with a personalized touch. Add his name, a special message, or even a fun superhero nickname to the Tumbler; it's a one-of-a-kind gift he'll cherish forever. Whether he's at work, in the car, or relaxing at home, this Tumbler is the ideal companion. It fits in most car cup holders and is easy to carry thanks to the sweat-free, ergonomic design.
6. Super Daddio Cookies + Cakes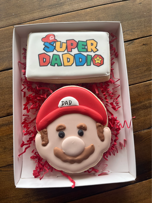 If your father loves sweets, surprising him with Super Daddio Cookies + Cakes is a superb choice. These delicious, customizable treats are a feast for the taste buds and a meaningful and heartfelt gift that will make any occasion extra special. Whether it's Father's Day, his birthday, an anniversary, or a surprise to brighten his day, Super Daddio Cookies + Cakes fit any occasion perfectly. They are versatile and always appreciated.
7. Personalized Super Daddio Plate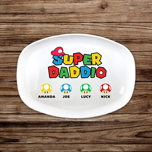 This plate isn't just for display; it's a functional item that your father can use daily or on special occasions. Whether he's enjoying breakfast, dessert, or any meal, he'll be reminded of your thoughtful gift.
The concept of a "Super Daddio" gift transcends boundaries and speaks to the universal love and nostalgia associated with the iconic Super Mario character. Whether your dad is a die-hard Mario fan or appreciates the enduring appeal of this beloved character, a Super Daddio gift will surely bring a smile to his face. With a touch of nostalgia and a lot of love, these gifts celebrate the super dads in our lives, reminding us that being a hero in our way is what truly matters.