Sustainable Baby Gifts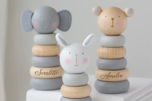 In a world where baby toys and items are often packed with plastic and materials harmful to the environment, discovering eco-friendly options for new parents is challenging. It's disheartening how these materials seem to dominate the baby market. But fear not, because we've curated a collection of the finest gifts for newborns that prioritize the Earth's well-being and ensure the baby's safety. These are more than just gifts – they are thoughtful choices that protect the little one and the planet. Join us to explore a world of sustainable baby products as gentle on nature as on tots.
1. Personalized Caricature
A Caricature is a delightful means of immortalizing emotions and the fleeting beauty of rapidly growing newborns. Imagine the impact of such a masterpiece adorning a wall – be it within the cozy confines of the baby's room or elegantly displayed within an ornate frame; it's bound to captivate the gaze of anyone who beholds it. This unique form of art can freeze moments in time, allowing the cherished essence of the baby's early days to linger and enchant all who cross its path.
2. Sophie the Giraffe Teething Toy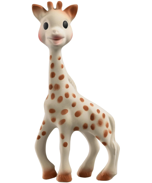 Sophie makes for an affordable and environmentally friendly baby gift due to its composition of natural rubber sourced from the Hevea tree. Natural rubber is a safer choice than synthetic rubber, which can contain potentially harmful petrochemicals as a byproduct of its production process. The toy's intricate design, with its various nooks and crannies, proves ideal for soothing baby gums during the teething phase. Its distinctive shape also nurtures the baby's attention but is perfectly sized for their tiny hands.
3. NutriBullet Baby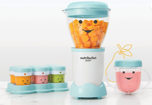 Preparing homemade baby food presents an excellent environmentally conscious approach, diminishing the need for acquiring single-use food jars and guaranteeing precise control over the ingredients in your baby's meals. The blender boasts impressive potency, thoroughly transforming foods into a velvety consistency ideal for your little one. The detachable lid cap on the blender offers convenient liquid addition to refine the purees into a silky, delicate texture effortlessly. For any parent seeking to craft their baby's nourishment, this kitchen tool is an essential addition to your arsenal.
4. Organic Cotton Onesies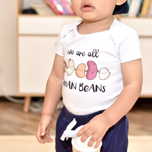 Like the thoughtful choice of an organic cotton nightgown, another exceptional eco-friendly gift option for babies is a set of organic cotton onesies. Babies practically reside in these onesies during those initial months, given their ease of use and the frequent changes required. These onesies fulfill this requirement, understanding the paramount importance of breathable attire for infants. They're not just practical but also promote a healthier and eco-conscious start for the little one.
5. Cloth Diapers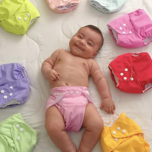 Opting for cloth diapers makes for a fantastic eco-friendly baby gift! Even though cloth diapers might have a higher upfront cost, they lead to substantial savings in the long run. Unlike the constant need to purchase disposable diapers, these fantastic items allow you to reuse them multiple times, saving hundreds of dollars.
6. Organic Baby Playmat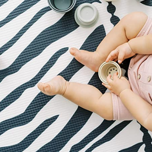 We all know the significance of enabling babies to engage in exploration and playtime. After all, play is the foundation for nurturing a baby's cognitive abilities and achieving critical developmental milestones. However, we're equally concerned about the surfaces babies play on, being wary of less-than-ideal chemicals and detrimental plastics. Although it's impossible to safeguard babies from all potential risks, we can present them with a considerate gift – a playmat crafted from foam free of BPA. This choice reduces worries about harmful substances and avoids including toxic chemicals often associated with materials like latex and PVC.
7. A Mid-Century Convertible Crib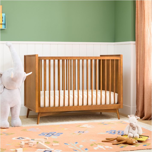 Consider investing in a convertible crib for a genuinely sustainable baby gift. These cribs offer remarkable eco-friendliness as they adapt and transform as the baby grows, significantly reducing the need for additional furniture manufacturing and minimizing waste. Your gift will contribute to the baby's comfort and growth and align with a greener and more environmentally conscious lifestyle.
8. A Fabric Book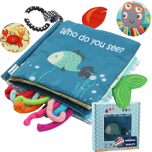 Fabric books are wonderful eco-friendly gifts for babies; they're easy to clean if they get messy. Also, such creative items are perfect for babies to touch and feel, helping them learn about the world using their hands! For instance, the Ocean Fabric book from Amazon is super soft, and each page has a fun story about sea animals. It has things like flaps to lift, toys to touch, a squeaky part, crinkly paper, and it even comes in a gift box. There's a mirror and something to soothe teething babies too. It's a fantastic present for babies from birth to 1-year-old and beyond.
9. Wooden Toys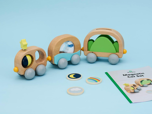 Inspired by the Montessori approach, this magnetic train set features three vibrant, magnetic train cars that can be easily linked. These compartments are perfectly sized for tiny hands to slide, push, and tug along and are crafted from non-toxic, baby-friendly materials. Each car has exciting surprises, from spinning elements to rattling parts and fold-open sections. Are your little ones prepared to enhance their motor skills, hand-eye coordination, and beyond?
10. Glass Bottles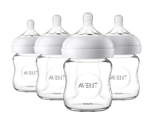 These unique glass bottles from Philips AVENT don't use plastic at all! They're made from a type of glass called borosilicate, which means they're safe from BPA. Also, because they're made of glass, it's easier to keep them clean and germ-free than plastic bottles. Parents will be happy knowing these bottles can handle the heat and sudden temperature changes, so putting them in the fridge or warming them up is safe. And they'll like the unique nipple design that stops milk from dripping and gives them peace of mind.
The journey towards a promising future begins with our choices today, even in baby gifts. Our blog on Sustainable Baby Gifts strives to empower readers to embark on a zero-waste baby journey by presenting a curated selection of easy-to-use, high-quality, and durable products that stand the test of time. By embracing these thoughtful choices, we contribute to a healthier planet for the next generation and instill in them the values of mindful consumption and environmental stewardship from the very start. As we celebrate the arrival of new life, let us also celebrate the small steps we take to ensure a brighter, greener future for all.