Sustainable Father's Day Gifts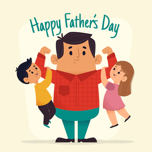 Father's Day is just around the corner, and it's a time to show appreciation to our dads. Whether it's an excellent talk, a heartfelt card, or a special gift, we're ready to make them feel special. This year, we're paying attention to different types of dads: those who like the outdoors, those who adore their cars, those who enjoy cooking, and even those who prefer relaxing on the couch all day. We have gift suggestions that match their eco-friendly way of living. Check out our blog article featuring eco-friendly Father's Day presents, including unique artwork and valuable items for their interests.
1. Creative Artwork
Creative artwork takes the spotlight when choosing the perfect sustainable gift for Father's Day. A personalized caricature is an excellent choice if your dad has a keen emotional sensibility and a knack for treasuring soulful gifts. It's a surefire way to deliver a unique and heartwarming surprise and to unfold layers of emotions, memories, and significance with each glance. Its dynamic nature ensures that every time your dad looks at it, he'll discover something new, evoking feelings. This art form can bring a smile to his face, and sharing it with loved ones becomes a source of pride and joy.
2. A Pajama Set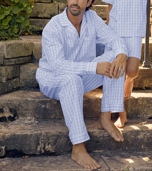 Opt for a gentle and eco-friendly gift. Petite Plume makes comfy and fancy clothes made from incredibly soft cotton, with a lot of care put into the small parts. The Light Blue Gingham Pajama Set, with its unique design and details like different-colored edges and a neat checkered pattern, is made from fabric that won't shrink when washed. Plus, it's brushed uniquely, so every time it's washed, it gets even softer and helps you sleep better.
3. Cactus Leather Belt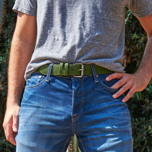 Imagine a belt that enhances your look and aligns with your values. Such a classic green belt is a triumph of innovation, being made from cactus leather, a revolutionary vegan fabric derived from the resilient nopal cactus. It marks a monumental shift towards a more compassionate and eco-friendly fashion industry. Personalization meets sustainability with various options; choose elegant colors—timeless black or vibrant green—to suit your taste. Additionally, you can tailor your belt even further by choosing from a trio of distinct buckle finishes: sleek black, timeless brass, or sophisticated silver.
4. A Bucket Hat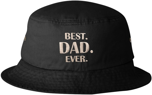 With its wide brim and sturdy construction, this organic cotton bucket hat is designed to provide optimal sun protection. Whether engaged in gardening, taking a leisurely walk, or merely relishing time spent outside, this hat guarantees uninterrupted enjoyment by shielding the wearer from the sun's rays. Moreover, it's produced in a Fair Trade Certified factory, ensuring that every step of the manufacturing process adheres to rigorous ethical standards.
5. Recycled Cement Square Wallet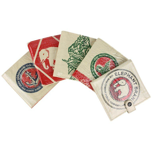 Choose the Recycled Cement Square Wallet as a fantastic eco-friendly present for Father's Day. This unique wallet is made from reused cement bags and is designed to hold your essential items while being kind to the environment. Its small size easily fits into a small crossbody bag, jacket, or jeans pocket, making it handy.
6. World Tablet and Book Stand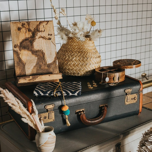 You can pick a suitable article with an engaging, creative design. For instance, this tablet and book stand, crafted from durable wood in north-central India, showcases a hand-carved world map. Skilled artisans use hand tools to expertly shape blocks of mango wood, harvested in an eco-friendly manner, into exquisite creations.
7. Wooden Cocktail Shaker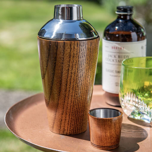 The teakwood cocktail shaker ensemble includes a stainless steel lid, cap, and jigger. It presents an excellent present for any father who enjoys crafting cocktails. Every component in this collection lacks BPA/BPS, ensuring safety and reusability.
8. Fressko Camino Cup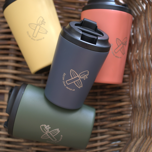 Are you looking for the perfect eco-friendly Father's Day gift? Look no further. The Fressko Camino Cup is a statement piece and a practical accessory that keeps beverages at the ideal temperature – hot or cold. Its BPA-free construction ensures Dad's drinks remain untainted, while its tough-as-nails build guarantees resistance against scratches. Are you worried about spills? - Relax. This cup is designed to be spill-proof, perfect for dads on the go.
9. Conscious Step Socks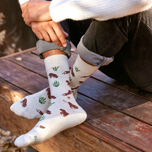 Is your dad a fan of unique and eccentric sock choices? Look no further than Conscious Step socks – these are not ordinary socks. They serve a dual purpose by pampering your feet and contributing to a more significant cause. With each pair you buy, a portion of the proceeds is channeled directly toward supporting nonprofit organizations, making a significant stride in our collective mission to preserve the environment. Notably, these socks hold Fairtrade, GOTS, and Vegan certifications, reflecting their commitment to ethical and sustainable production practices.
10. Plastic-Free Razor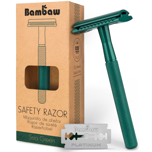 This Father's Day, give your dad a gift that speaks volumes – a grooming tool that reflects your shared values of excellence and environmental consciousness. Upgrade his shaving routine to one that's effective and ethical with a Plastic-Free Razor that embraces innovation without compromising our planet's well-being.
11. 100% Cotton Apron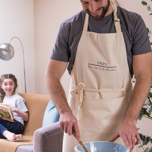 Keep your dad's clothes clean and dry, whether he's grilling outside or cooking in the kitchen. This men's cooking apron comes with a herringbone neck tie, a sliding buckle you can adjust, and a functional front pocket.
We hope you've found our compilation of top Father's Day gifts practical by gaining innovative ideas or finding something extraordinary. When making your selection, consider the choice between unique and personalized presents. It's a chance to reflect on your dad's preferences and display the depth of your affection. Equally important, regardless of your choice, is to show gratitude towards our environment. Traditional gift-giving occasions often lead to excessive waste, burdening our planet. By opting for one of these gifts, you make a positive contribution and ensure your gesture remains environmentally friendly. Your thoughtful choice honors your dad and safeguards the world we share.