Sustainable Gifts for Him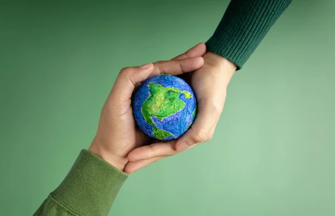 If you're faced with the delightful yet sometimes challenging task of choosing a unique gift for the significant man in your life — your beloved husband, trusted friend, dear son, or respected father — this blog perfectly suits your needs. Within these digital pages, you'll discover the usual offerings and a treasure trove of distinctive and sustainable presents that go the extra mile by embracing an eco-friendly approach. With a focus on doubling the impact while tending to the well-being of our precious planet, these gifts hold the potential to captivate even the most discerning gentleman within your circle. So, join us as we unravel a realm of conscious and captivating gift ideas, ensuring your gesture not only warms the heart of its recipient but also contributes to improving our global home.
1. Personalized Caricature
Unleashing a man's inner creativity can take on an enchanting form – a personalized caricature. Imagine the intrigue of witnessing your face transformed into a delightful blend of artistry and humor; the same happens when you offer someone such creative artwork as a gift. It's not just a picture; it's an insightful glimpse into how your friends and loved ones truly see you. But there's more to it than that. The magic lies in the details. The background of the caricature isn't just a backdrop; it's a canvas that weaves a story. It's a chance to tell the tale of your passions, work, and dreams without uttering a single word. Imagine capturing the essence of your favorite hobby, depicting your professional journey, showcasing the vacation you've been yearning for, or immortalizing your cherished furry friend – all with a stroke of artistic finesse. A personalized caricature isn't just a gift; it reflects your inner world, a tale of your adventures, interests, and connections. It's a whimsical celebration of individuality that speaks volumes without saying a thing.
2. A Knitted Beanie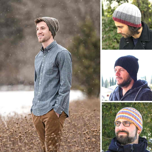 Gifts should reflect the recipient's personality and style. With a knitted beanie in a rich palette of bold colors, you can choose the shade that resonates most with the recipient's preferences. Imagine gifting him an accessory that enhances his style and aligns with his values. Many knitted beanies are crafted from GOTS-certified organic cotton and dyed using low-impact dyes. This eco-conscious choice resonates with a modern lifestyle that values sustainability and responsible consumerism.
3. Classic Organic Hoodie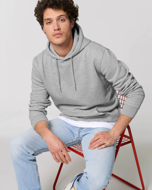 One of the greatest pleasures of wearing a hoodie is its unparalleled comfort. Now, imagine that comfort and the knowledge that the hoodie has been produced with ethical considerations. Many classic organic hoodies are manufactured in facilities that prioritize fair labor practices, ensuring that your gift contributes positively to the lives of those who create it and not only.
4. A Travel Backpack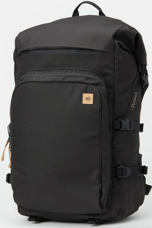 With a spacious 35L capacity, this backpack is tailor-made for his dynamic lifestyle. It effortlessly accommodates his diverse needs, from housing laptops to stowing water bottles, clothing, sustenance, and all the essentials. Its generous capacity doesn't compromise its portability; the backpack remains refreshingly lightweight, ensuring he can easily navigate his adventures.
5. Nisolo Brewer Wallet - Black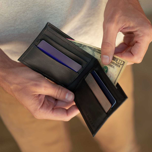 Elevate his accessories game with this meticulously handcrafted leather wallet, exuding timeless sophistication. It has spacious compartments and accommodates credit cards, currency, loyalty cards, and additional essentials. What makes this choice even more remarkable is its ethical foundation – the skilled artisans behind these wallets receive fair wages and enjoy healthcare benefits while working in a safe and nurturing environment. This wallet isn't just a style upgrade; it's a statement of conscientious luxury.
6. Solar-Powered Watches by Solios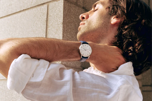 Timepieces hold the same significance for men as jewelry does for women. They introduce a dash of sophistication and finesse, serving as the finishing touch to your ensemble. Among these, the solar-powered watches from SOLIOS stand out, delivering unmatched excellence and worth. Renowned for its utilization of solar-powered batteries, recycled stainless steel, and eco-vegan leather, SOLIOS stands out for its commitment to sustainable innovation. Gifting these watches enhances his fashion sense and contributes to a greener and more conscious world.
7. Organic Cotton Socks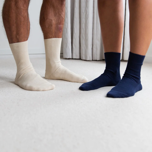 Catering to those who might be a tad sluggish in refreshing their everyday essentials, these incredibly soft socks are bound to inspire them to bid farewell to their hole-riddled pairs. These socks are produced with minimal impact, harnessing the power of organic cotton and natural dyes, famed for their commitment to eco-friendly practices.
8. Water Bottle Holder from Wawwa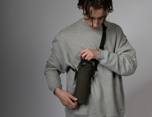 Are you looking for a fantastic gift for an adventurous man? Choose an ingenious Water Bottle Holder from WAWWA, available in four colors (Dark Olive, Biscuit Orange, Stone Grey, and Black) and various bottle sizes and shapes. It's a blend of sustainability and style, offering a chic solution for toting your water while on the move. With its practical shoulder strap design, it ensures convenient hands-free transport. Crafted entirely from 100% organic ripstop cotton, this holder guarantees security and durability while being environmentally conscious.
9. Wooden Wireless Phone Charger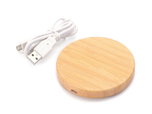 If you're searching for a striking and functional eco-friendly gift for men, look no further than the Oakywood wooden wireless phone charger, available through EarthHero. This captivating charger is meticulously handcrafted using FSC Certified solid oak or walnut wood. Even more remarkable is that Oakywood plants a tree for each order they receive, adding an extra layer of sustainability to this thoughtful gift.
10. Eco-Friendly Jeans from Kabara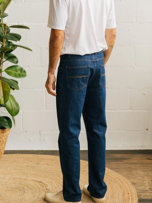 Enhance His Daily Attire with the Perfect Present for Him: Elevate his casual style by surprising the recipient with a fantastic denim upgrade and introducing Kabara jeans - boasting the timeless charm of classic blue denim while revolutionizing eco-friendliness through innovative nano-technology that eliminates chemical wastewater. Not to mention, the comfort they offer is simply unmatched!
Incorporating sustainable choices into your gift-giving showcases your thoughtfulness and contributes to a brighter future for our planet. Bear in mind that when searching for the perfect ethical gift for him, it's essential to consider their lifestyle, preferences, and dislikes. It's essential to tailor your choice to his unique preferences and daily routine, ensuring that the chosen gift becomes a cherished and enduring part of his life's journey.