Sustainable Valentine's Day Gifts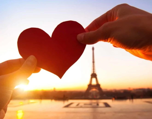 Valentine's Day dates back to the 14th century and has evolved far beyond its roots in courtly love and romantic gestures. People started giving each other presents in those early days to express love. Today, Valentine's Day has moved beyond just being about romance; it's now a day to celebrate all the people who are important to us, including romantic partners, close friends, and beloved family members. This modern concept of Valentine's Day represents the celebration of comfort, care, and love in all forms. And what better way to convey your appreciation for your loved ones and the planet than by opting for eco-friendly Valentine's Day gifts? In our blog 'Sustainable Valentine's Day Gifts,' we'll explore a thoughtful array of presents that warm the heart and tread lightly on our environment.
1. Personalized Artwork
Valentine's Day is all about feelings, and what gift could stir up the most rich emotions during this time? Of course, it is a personalized artwork where the main characters are portrayed, radiating a unique and heartfelt romance. The way your eyes light up in each other's presence, the laughter you share, and the silent understanding that passes between you – all these subtle nuances are carefully woven into this personalized masterpiece. The joy, the butterflies, the comfort of each other's presence – all come rushing back in a flood of emotions. Furthermore, it's not solely a matter of creative selection; it's also an environmentally friendly option.
2. Fair Trade Chocolates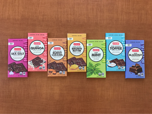 Choose a yummy present that's delicious and kind to the planet this Valentine's Day. Alter Eco is a brand dedicated to improving food and making it more enjoyable. For instance, their chocolate is unique because it's tasty and environmentally friendly. When you savor it, you'll love the flavor and feel good knowing it's produced in a way that supports the rainforest. The chocolate is created from natural ingredients grown with care and not overly processed.
3. Organic Wine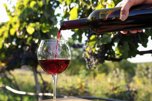 Are you seeking an excellent eco-friendly present for your partner this Valentine's Day? Why not consider delighting them with an organic wine bottle? This thoughtful option allows your loved one to enjoy a delicious drink free from concerns about harmful chemicals such as synthetic fertilizers, pesticides, and herbicides. It goes beyond being a mere gift; it demonstrates your concern and positive intentions toward your partner and the environment.
4. Indoor Plant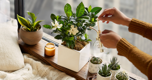 Can you imagine Valentine's Day without flowers? If not, consider getting an indoor plant for a planet-friendly option instead of regular store flowers. It can add a nice touch of green to any home or office and make the place feel more welcoming. The cool thing is that if you take good care of it, the indoor plant will keep growing for a long time, even years. Or, you can opt for some kinds of plants, like the snake, ZZ, and money plants, which are simple to take care of and only need a little attention.
5. Eco-Friendly Candle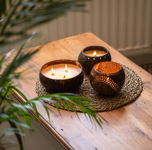 Consider giving your loved one an organic, vegan candle as a fantastic, sustainable gift idea for Valentine's Day! Numerous charming small businesses offer these types of candles, and by supporting them, you also support the environment. Check if there are any local candle makers in your area!
6. Homemade Soap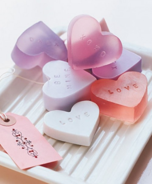 If you aim to provide your loved one with Valentine's Day gifts that are both environmentally friendly, wonderfully fragrant, and highly practical, these handmade soap bars are a fantastic choice. Not only do they exude delightful scents, but they're also crafted from certified organic ingredients and are entirely plastic-free! Moreover, they play a crucial role in establishing a bathroom with minimal waste and are indispensable for maintaining zero-waste principles during travel.
7. Pampering Set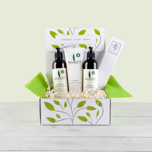 Another fantastic Valentine's Day present idea is a pampering set that's both natural and eco-friendly. The Sukin Vegan Pampering Hamper Gift Box from the famous Australian skincare brand Sukin offers a mini personal spa experience. These products are perfect for encouraging relaxation and revitalization. We assure you that any beauty enthusiast would be thrilled to receive this set.
8. Plantable Valentine's Day Card - Flower Seed Paper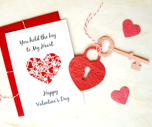 These lovely cards are crafted from seed paper, which comes from recycled paper waste. They're completely biodegradable, and the remarkable thing about seed paper is that you can plant the card and watch beautiful wildflowers grow from it!
9. Happiness Essential Oils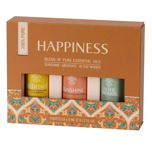 Use these Happiness essential oils to add a cheerful touch to any room on Valentine's Day. They can be mixed with a carrier oil or used in an oil diffuser. These oils are distilled, bottled, and packaged by a socially responsible and fair trade organization called Song of India in Delhi. Part of the proceeds support children's education in Rajasthan, India.
10. Moomin Mug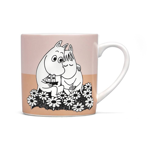 Make this Valentine's Day unique by celebrating in a particular manner. This cute Moomin hug mug is ideal for enjoying a cozy hot drink. It features the quote from Moominpappa at Sea: "We're alike, you and I," he thought. 'We understand each other; we only care about beautiful things.''
Transitioning from unsustainable to eco-friendly gifts might require effort, but the rewards are twofold – both the Earth and your loved one will appreciate your thoughtful choices. With options ranging from fair trade chocolates to indoor plants, there are numerous ways to dazzle your partner while minimizing your environmental and social footprint on this special occasion. You must select what aligns most with the couple's vibes or who you're gifting to.