Fostering Workplace Cheer: Top 10 Christmas Gifts for Your Colleagues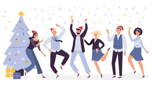 Is there anyone who doesn't like Christmas presents? Even grown-ups appreciate unwrapping gifts or receiving thoughtful gestures during this particular time. As the holiday season approaches, you may be eager to express your gratitude to your colleagues through gift-giving. Nevertheless, purchasing presents for everyone on your list can strain your finances. Fortunately, there's no need to exhaust your resources to leave a lasting impression at work. Thoughtful and budget-conscious gift-giving can be equally significant, developing a sense of togetherness and gratitude among your mates. Here are some inventive and wallet-friendly suggestions to share festive joy without straining your budget.
1. Personalized Artwork
In a world where personal tastes vary greatly, ordering a custom self-caricature might seem selfish. After all, isn't that what colleagues, friends, or family are for – to surprise you with personalized gifts? Yet, when celebrating Christmas, there's a unique opportunity to embrace the season's spirit memorably and creatively. Imagine this: your colleagues gathered around the office Christmas tree, exchanging presents and sharing laughter. But this year, you decided to add a touch of originality to the festivities. Instead of the usual gifts, you can offer them the gift of laughter and unforgettable emotions through a group caricature.
2. The Office Alphabet Tote Bag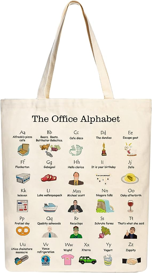 This tote bag features an inventive design that 'The Office TV Show' fans will instantly recognize and adore. It's centered around the alphabet, with each letter corresponding to iconic elements from the show. For example, 'B' is for 'bears, beets, and Battlestar Galactica,' a classic quote from the character Jim Halpert. Each letter of the alphabet is paired with a clever reference from 'The Office,' making this bag a practical accessory and a delightful fandom art.
3. A Desk Plant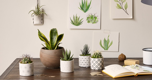 Do you know indoor plants can enhance productivity and elevate mood? It's a desirable addition to any office environment! Additionally, plants promote fresh and clean air quality, making them a gift that continues to benefit over time. Consider seeking seasonal plants suitable for desktop settings, such as Christmas cacti, amaryllises, or snake plants. Selecting a small pot that matches their personality will create a genuinely ideal Christmas gift for your colleagues.
4. Mini Humidifier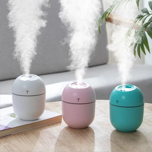 A Mini Humidifier is a relaxing gift that will go well with the recipient's workstation. Apart from serving as a piece of decor, your colleague can benefit from the hydrating effects of the dry winter air.
5. Travel Mug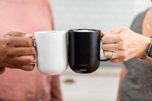 Whether for fun or work, your business colleagues often have to travel. A travel mug is great for people who travel and enjoy drinking hot drinks while on the move. The latest ones don't leak and have a seal to keep your drink safe inside. Say goodbye to coffee spills on your laptop or important papers!
6. A Desk Calendar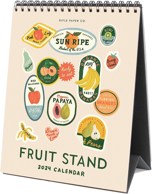 Consider this delightful desk calendar a thoughtful choice if you have a colleague who savors their lunch breaks. Not only is it visually appealing, but it's also convenient. And if you're seeking meaningful gifts for colleagues bitten by the travel bug, there's even a nature-themed version featuring floral landscapes worldwide.
7. Therapy Stress Balls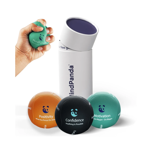 Stress balls have long been a go-to solution in the office for a good reason. They are ideal for those busy and high-stress work situations. This particular set is unique because each ball is infused with essential oils designed to soothe the mind and enhance concentration, as the brand claims.
8. ErgoFoam Ergonomic Foot Rest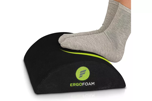 Imagine having a plush footrest that slides right under your desk, making your day of sitting more comfortable. Not only does it promote a cozy sitting posture, but it also provides a gentle haven for your feet to unwind. You can even pick from various colors and two-size options to cater to individuals of various heights.
9. Bean Box Gourmet Coffee Sampler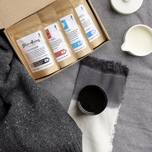 This selection of four thoughtfully chosen coffee blends is the perfect companion to power through a demanding day (or week) of meetings. Each package includes a half-pound of coffee (pick between whole beans or expertly ground), a handcrafted treat, and accompanying tasting notes.
10. Pear Pod Multifunctional Desktop Organizer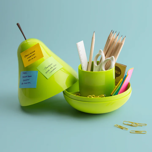 An exquisite blend of form and utility can be found in this desk organizer available at the MoMA Design Store. The "Pear Pod" represents a charming and efficient solution for stowing away your colleague's office necessities like pens, paperclips, sticky notes, and more. Moreover, the Pear Pod adds an element of whimsy to their workspace. It can even double as a playful serving dish for snacks, accommodating anything from mini breadsticks to cookies and crackers.
In selecting the perfect Christmas gift for your colleagues, remember that it may require a little time and analytical qualities. Fortunately, our list of Secret Santa gift ideas for coworkers and thank-you gift ideas for coworkers provides diverse options, whether you're aiming for practicality or sentimentality. As you select, prioritize their interests and needs, and rest assured, your chosen gift will leave a positive and lasting impression.