10 Unique Gifts For Pug Lovers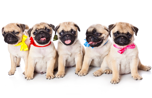 Explore our guide to the finest gifts for these amazing canine lovers! When pugs establish a permanent place in our hearts, their presence remains everlasting. If you know someone who adores or owns this unique dog breed, you're lucky—birthdays and holidays have become much more cheerful. And if you're looking for a gift for a pug lover, you must look at our delightful variety of pug-themed gifts. Personalized presents always leave a lasting impression and hold a special significance; we wholeheartedly endorse selecting pug-inspired gifts for proud pug parents. Our carefully curated list caters to diverse interests and budgets, ensuring you'll discover the ideal item that perfectly matches your recipient's taste.
1. Custom Pug Portrait
A Printed Pug Drawing presents a brightly creative idea to honor the remarkable bond you share with your furry companion. This meticulously hand-drawn pug portrait goes beyond mere artwork—it becomes a masterpiece that encapsulates your beloved pet's personality in a manner that surpasses a simple photograph. It's an extraordinary tribute to the incomparable charm of your little canine friend, a timeless keepsake that immortalizes their charming spirit.
2. Pug Coffee Mug
Start your day in the company of a radiant coffee mug or tea, an enchanting ritual treasured by multitudes. And when it comes to finding the perfect gift, look no further than a creative Pug mug. This creative idea adds a playful twist to the daily routine, bringing a smile to your loved one's face every time they reach for their favorite sip. Whether it's a bizarre design or a funny phrase, a Pug mug is a thoughtful gift that mixes practicality with charm.
3. A Tote Bag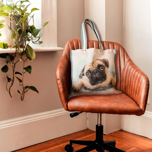 The Pug tote bag is a fabulous creative concept that combines practicality and amusement. Not only does it serve as a convenient carrier for snacks or meals, but its hilarious Pug design, perfect for gifts for Pug owners, is guaranteed to bring happiness and laughter to anyone who sees it.
4. Pug Pillows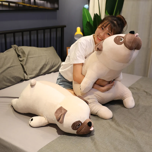 Explore the perfect gift for Pug enthusiasts or a playful addition to enhance your home decor by indulging in our Pug Plush Pillows generously filled with PP cotton. The lifelike Pug design and cheerful expressions are bound to delight all Pug lovers. Such exceptional items are suitable for individuals of all ages, whether kids or adults. They can serve as cozy body pillows, decorative cushions, or charming Pug-themed accents to enliven your living space.
5. Pug KeyRing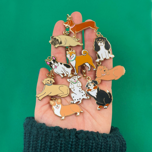 Opt for an ingenious and imaginative concept that captures the essence of a laid-back pug. The versatility of this key ring allows for its transformation into a dog tag, ready to be attached to your beloved pet's collar. You can ensure the security of your furry friend by inscribing your contact number with a marker or, for added durability, opt for engraving. Doing so means you'll never lose sight of your precious furball again.
6. Owner with Pug Cartoon Portrait
The depiction of a Dog Parent and its loyal canine companion possesses an enchanting power that can thaw even the frostiest hearts. Choosing such a gift will be an excellent option to evoke a deep emotional response and tug at those delicate heartstrings. The captivating magic exuded by this portrait can resonate with individuals on a sensitive and emotional level, making it a genuinely touching and heartfelt gift choice.
Owner with Pets Caricatures
7. Pug Desktop Organizer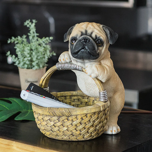 Let your love for Pugs shine as these delightful statues securely hold your keys, wallet, phone, remotes, daily jewelry, lipstick, perfume, make-up, stationery, and more. With their timeless allure, these Pug ornaments redefine decor like no other. Whether you're seeking a brilliant birthday present, a heartwarming housewarming gift, or simply a small gesture to show someone you care, these limited edition Pug ornaments are destined to impress.
8. Pug Multicolor Statues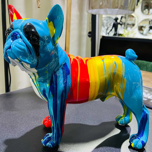 Decorate your living room, office, or study with the extraordinary charm of Pug Multicolor Statues, an exceptional and imaginative creative concept. These statues exude artistic nobility that captivates everyone who sees them, crafted with precision using high-quality resin. Embrace the combination of originality and quality, and let these Pug Multicolor Statues infuse your surroundings with their captivating presence.
9. Pug Doormats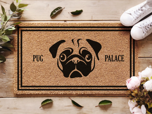 Give a friendly Pug-style welcome to all your guests with these irresistibly adorable doormats! Such cute items are suitable for indoor and outdoor use, ensuring that guests are well-informed about your home's most cherished member. With their adorable design, they are guaranteed to generate a smile for anyone who visits your abode. Available in various sizes to fit any doorway, these creative carpets, perfect pug gifts for pug lovers, are crafted from high-quality materials, ensuring durability and easy maintenance.
10. Pug Wall Clocks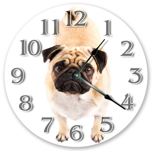 Whether you proudly wear the badge of a devoted Pug mom or adore the gorgeous face of this lovable companion, these Pug wall clocks are guaranteed to bring a smile to your face with every glance at the time. They are delightful additions to your home decor and make excellent housewarming gifts for Pug enthusiasts. Embrace the joy of Pugs and let these fascinating wall clocks remind you of their adorable presence throughout the day.
In conclusion, while our list may seem brief, it offers diverse options to help you find unique pug gifts. Our focus has been on highlighting gifts that are not only straightforward but also practical and unique. By prioritizing simplicity and functionality, we aimed to suggest a selection of gifts that will genuinely resonate with Pug enthusiasts. Whether it's a beautiful Pug Portrait, a charming Pug-shaped keyring, or any other distinctive items we've presented, these gifts will surely bring joy and appreciation to the recipient.